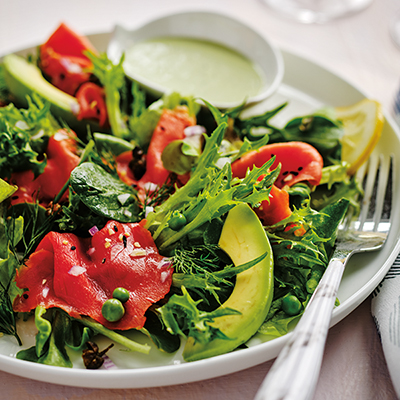 Everything Bagel-Spiced Lox Salad served with Green Goddess Dressing
Ingredients
Serves 2 to 4
1 tbsp (15 ml) capers, drained and dried on a paper towel
4 cups (1 L) mixed greens
8 oz (250 g) lox (cold smoked salmon)
1 small avocado, cut into wedges
2 tbsp (30 ml) finely chopped red onion
¼ cup (60 ml) peas, fresh or frozen, blanched
1 tbsp (15 ml) Everything Bagel Spice, make ahead, recipe follows
½ lemon, cut into thin slices, for garnish
¼ cup (60 ml) Green Goddess Dressing, make ahead, recipe follows
FOR EVERYTHING BAGEL SPICE:
1 tbsp (15 ml) poppy seeds
1 tbsp (15 ml) sesame seeds
1 tbsp (15 ml) dried minced garlic
1 tbsp (15 ml) dried minced onion
1 tsp (5 ml) seasoning salt
FOR GREEN GODDESS DRESSING:
½ cup (125 ml) sour cream
¼ cup (60 ml) lemon juice
1 cup (250 ml) mixed green herbs (e.g. tarragon, parsley, chives, chervil, or as desired)
2 tsp (10 ml) Worcestershire sauce
salt and pepper, to taste
Instructions
In a small saucepan, heat oil to 375 F (190 C). Deep-fry capers until opened and crisp, about 1 to 2 minutes. Using a slotted spoon, remove from oil and drain on paper towel.
Place greens on a platter, then arrange lox and avocado over top.
Sprinkle crispy capers, red onion, peas and Everything Bagel Spice over salad.
Garnish with lemon slices and serve with Green Goddess Dressing on side.
To make Everything Bagel Spice, mix all ingredients together. Store in an airtight container at room temperature.
To make the Green Goddess Dressing, blend all ingredients in a blender until smooth. Can be stored in refrigerator for up to 3 days in an airtight container. Makes 1 cup (250 ml) dressing.
Drink Pairings