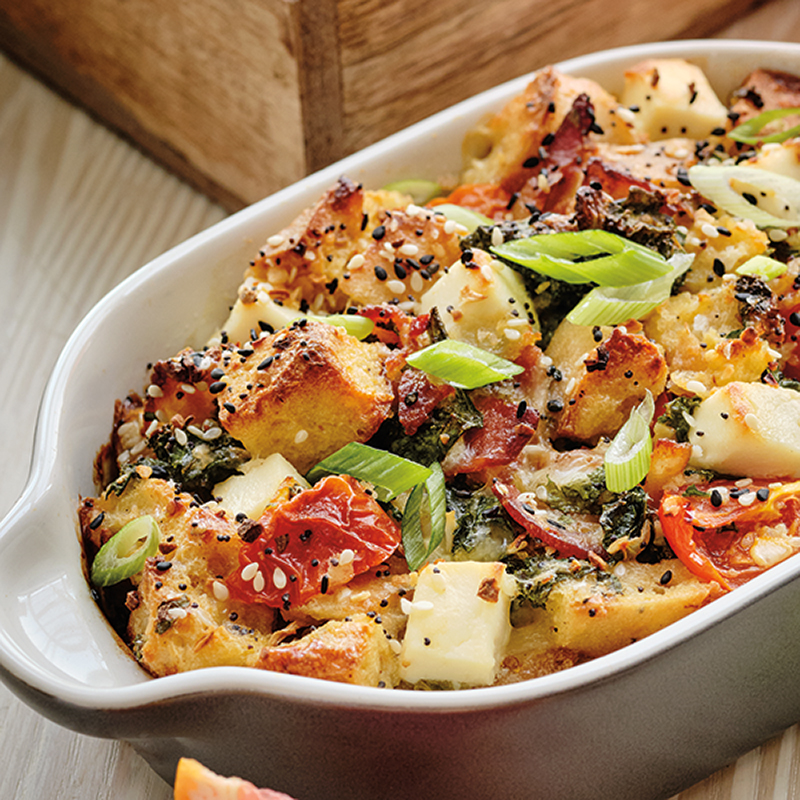 EVERYTHING BAGEL STRATA
Spoil your valentine by making this unforgettable brunch item.
Ingredients
Serves 2
2 tsp (10 ml) white sesame seeds
1½ tsp (7 ml) black sesame seeds
½ tsp (2.5 ml) poppy seeds
1½ tsp (7 ml) dried minced garlic
1½ tsp (7 ml) dried minced onion
1 tsp (5 ml) flakey sea salt
2 cups (500 ml) mixed hearty greens, such as kale, Swiss chard or collard greens, packed
½ cup (125 ml) halved cherry tomatoes
3 x day-old everything bagels, cut into bite-sized pieces
1 cup (250 ml) whole milk
1 tbsp (15 ml) Dijon mustard
½ cup (125 ml) shredded sharp cheddar cheese
½ cup (125 ml) shredded Monterey Jack cheese
¼ tsp (1 ml) ground black pepper
3 oz (90 g) block cream cheese, cut into bite-sized pieces
1 scallion, trimmed and thinly sliced
Instructions
To make everything bagel seasoning, in a small bowl, whisk together white and black sesame seeds, poppy seeds, minced garlic, minced onion and sea salt. Transfer mixture to an airtight container and keep at room temperature until ready to use.
Generously grease two 7 x 5-in (18 x 12 cm) round casserole dishes with olive oil. Place on a rimmed baking tray lined with parchment paper and set aside.
In a large frying pan over medium heat, fry bacon, turning occasionally, until cooked through and crisp, about 8 to 10 minutes. Transfer to a paper towel-lined plate to drain for 1 minute. Chop bacon and set aside. Pour out all but 1 tbsp (15 ml) bacon fat from frying pan and return pan to stove over medium heat.
Add onion to hot frying pan and sauté until translucent, about 4 minutes. Stir in greens and cook, tossing often, until wilted and there is no liquid left in bottom of frying pan, about 4 minutes. Transfer onion mixture to a large bowl along with cherry tomatoes, bagel pieces and bacon. Toss to combine.
In a measuring pitcher, whisk together eggs, milk, mustard, cheddar, Monterey Jack and pepper until well combined. Pour over bagel mixture and let sit for 5 minutes, gently stirring occasionally. Divide mixture evenly among prepared casserole dishes, pouring any remaining custard mixture at bottom of bowl over bagel mixture in dishes. Nestle cream cheese pieces in each casserole. Cover casserole dishes with foil and refrigerate on baking tray for at least 30 minutes or up to overnight.
Preheat oven to 375 F (190 C). Remove casseroles from refrigerator, uncover and sprinkle with a 1 to 2 tbsp (15 to 30 ml) of homemade everything bagel seasoning. Bake until centre is set and edges are golden brown, about 25 to 35 minutes. Remove from oven and allow casseroles to cool on baking tray for 10 minutes. Garnish with a scattering of scallions and serve warm or at room temperature.
Drink Pairings