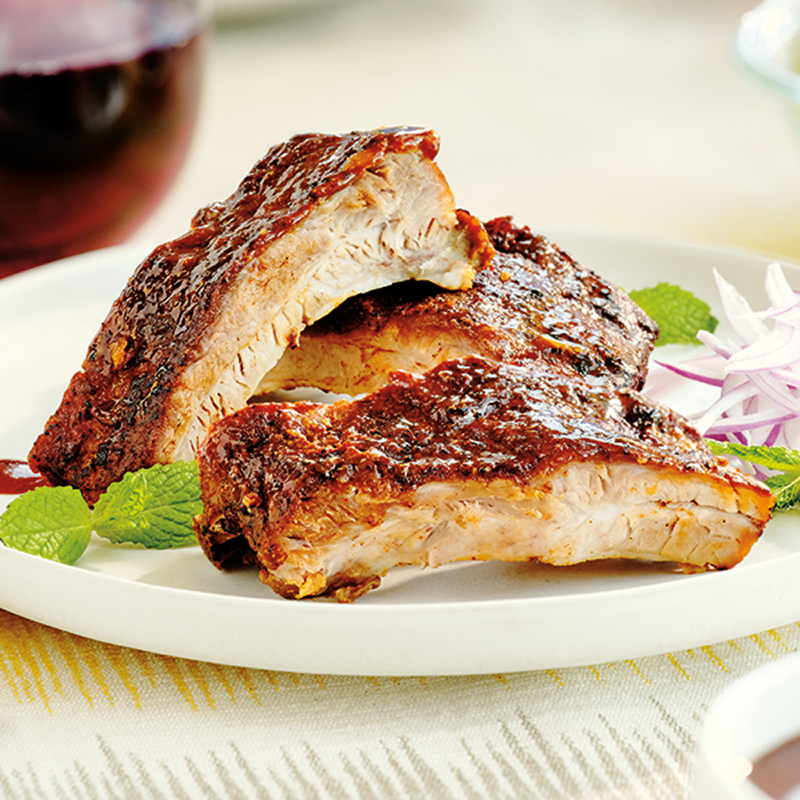 Fall-off-the-Bone Pork Ribs
Ingredients
Serves 6 to 8
2 x 2 lb (907 g) pork back rib racks, membrane removed from underside
2 tbsp (30 ml) dark brown sugar
1 tsp (5 ml) smoked paprika
1 tsp (5 ml) sweet paprika
1 tsp (5 ml) chipotle chili powder
1 tsp (5 ml) granulated garlic
2 tsp (10 ml) coarsely ground black pepper
½ tsp (2.5 ml) cayenne pepper
½ cup (125 ml) Dijon mustard
½ cup (125 ml) favourite barbecue sauce, homemade or store bought, plus extra to serve
Instructions
Pat rib racks dry with paper towel and place on a rimmed baking sheet. In a small bowl, combine sugar, smoked and sweet paprikas, chili powder, granulated garlic, pepper, salt and cayenne. Brush ribs on both sides with mustard and pat half the spice mixture over bottom sides of racks. Massage spice mixture into ribs, flip and repeat with top meaty side of racks. Wrap racks individually in double layered sheets of heavy aluminum foil, making sure foil is well sealed on all sides. Place foil packs topside up onto baking sheet and refrigerate for 2 hours.
Preheat oven to 275 F (140 C). Transfer tray of ribs from refrigerator to oven. Roast for 2 to 2½ hours, or until internal temperature reaches 155 F (68 C).
Preheat grill to medium. Brush tops and bottoms of ribs with barbecue sauce and place on grill meaty side up. Grill without flipping for about 8 to 10 minutes.
To serve, transfer racks to a large cutting board and cut into 1 to 2-rib portions. Serve immediately with a side of slightly warmed barbecue sauce for dipping.
Drink Pairings