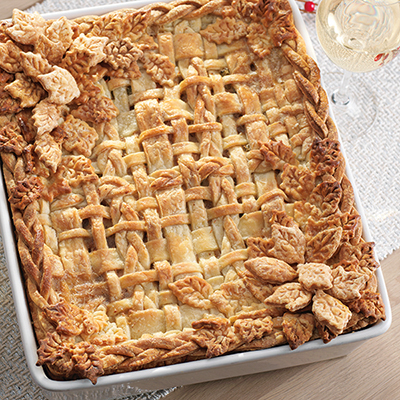 Ingredients
Serves 8 to 10
7 tbsp (105 ml) vinegar, divided
6 cups + ⅔ cup (1.5 L + 150 ml) flour, divided
¾ lb (340 g) cold margarine
12 skinless, boneless chicken thighs
salt and pepper, to taste
3 tbsp (45 ml) oil, divided
4 cups (1 L) button mushrooms
1 cup (250 ml) onion, finely chopped
2 cups (500 ml) diced carrots, cut into 1½-in (3.75 cm) pieces
2 cups (500 ml) diced celery, cut into 1½-in (3.75 cm) pieces
4 cups (1 L) chicken stock
2 sprigs each, thyme and oregano
⅔ cup (150 ml) room temperature butter
1 tsp (5 ml) each, celery salt, garlic powder and white pepper
3 tbsp (45 ml) prepared mustard, divided
16 oz (500 g) bacon, finely chopped, fried and patted dry
1 egg wash (1 egg whisked with 2 tbsp (30 ml) water)
Instructions
To make pastry, in a small bowl, lightly whisk 5 eggs, 5 tbsp (75 ml) vinegar and 5 tbsp (75 ml) water. Cover and place in freezer to chill.
Place 6 cups (1.5 L) flour and 1½ tsp (7.5 ml) salt on clean counter. Using a knife or pastry cutter, cut in chilled butter and margarine to flour until it resembles coarse oatmeal. Make a well in centre of flour, and slowly pour in chilled egg mixture. Incorporate surrounding flour mixture until combined. Roll into a ball and divide into 6 portions. Cover each with plastic wrap and place in refrigerator to cool for at least 30 minutes. When ready to use, let rest at room temperature for 5 minutes. Can be refrigerated for 3 days or frozen for up to 1 week. Makes 6 pastry dough discs.
To make filling, season chicken thighs with salt and pepper. In a frying pan, add 2 tbsp (30 ml) oil and fry chicken for about 7 minutes on each side. Remove from heat and place chicken and any juices in a bowl to cool. When cooled, cut into 1½-in (3.75 cm) chunks and set aside in bowl with juices. In same pan, fry mushrooms. Remove from pan and add to chicken.
In a saucepan, sauté onions in 1 tbsp (15 ml) oil until lightly golden. Add carrots, celery and peas and continue cooking for about 2 minutes. Add chicken stock.
Prepare a bouquet garni (bundle herbs and tie together) with thyme, oregano, sage, parsley and bay leaves. Add to stock. Cover and let simmer for 15 minutes. Remove bouquet garni and discard.
In a large saucepan over medium heat, melt ⅔ cup (150 ml) butter. Add ⅔ cup (150 ml) flour and cook in butter until a smooth roux is formed. Whisk in celery salt, garlic powder, white pepper, paprika and 1 tbsp (15 ml) prepared mustard. Whisking constantly, gradually add milk until smooth and thick.
Add 2 cups (500 ml) of stock to roux and mix until smooth. Add remaining stock and vegetables. Add cooked mushrooms, bacon and chicken. Mix until evenly distributed then add 2 tbsp (30 ml) vinegar. Turn off heat, cover and set aside to cool. At this point, filling can be refrigerated for up to 2 days before using.
Combine 3 discs of room temperature pastry together and roll out to ¼-in (0.5 cm) thickness. Place over a rectangular baking dish about 12 x 10 x 2 ½-in (30 x 25 x 6.25 cm) to cover bottom and sides with a 1-in (2.5 cm) overhang. Brush 2 tbsp (30 ml) prepared mustard over pastry. Using a fork, prick holes in pastry along bottom and sides of pan. Pour in chicken filling and spread evenly. Moisten edges of pie with a little bit of water.
Combine 2 pastry discs together and roll to about ¼-in (0.5 cm) thickness to cover pie. Using a fork, prick holes on surface to let steam escape during baking. Alternatively, create lattice; cut pastry into strips and weave into lattice top. Pinch edges of pastry to seal. Trim extra pastry. Pie is ready to be baked or can be frozen up to 1 week. Defrost in refrigerator before baking.
When ready to bake, adjust rack in oven to centre position and preheat to 400 F (200 C).
Roll last pastry disc to ¼-in (0.5 cm) thickness and cut into shapes to decorate top. Assemble as desired. Brush surface of pie with egg wash. Bake 50 to 60 minutes in oven until golden brown. Remove from oven and let cool for at least 15 minutes before serving.
Drink Pairings