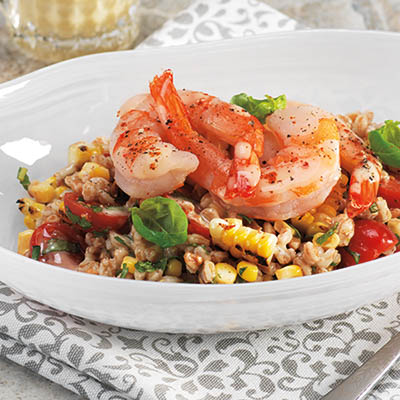 FARRO AND SHRIMP SALAD WITH SPARKLING VINAIGRETTE
Ingredients
Serves 6
¼ cup (60 ml) semi-dry sparkling wine
2 tbsp (30 ml) Dijon mustard
2 tbsp (30 ml) fresh lemon juice
2 tbsp (30 ml) liquid honey
¼ cup (60 ml) grapeseed oil
¼ cup (60 ml) extra-virgin olive oil
salt and pepper, to taste
1½ cups (375 ml) uncooked farro
3 cups (750 ml) semi-dry sparkling wine
1 strip of lemon zest, cut using a vegetable peeler
1 lb (500 g) large shrimp, deveined but with shell still on, size 16/20
3 ears of corn, husk removed
1 tbsp (15 ml) grapeseed oil
2 tbsp (30 ml) unsalted butter, at room temperature
2 tsp (10 ml) smoked paprika
1 tsp (5 ml) chili powder
2 cups (500 ml) cherry tomatoes, halved
¼ cup (60 ml) fresh basil, roughly chopped
¼ cup (60 ml) fresh cilantro, roughly chopped
2 tbsp (30 ml) fresh mint, roughly chopped
Instructions
To make SPARKLING VINAIGRETTE: In a blender combine sparkling wine, garlic, mustard, lemon juice, honey, ¼ cup (60 ml) grapeseed oil, extra-virgin olive oil and a good pinch of salt and pepper until well combined. Season with additional salt and pepper. Dressing may be made 2 days in advance and refrigerated until ready to use.
To make SALAD: In a large saucepan, bring water to a boil over high heat. Add farro, cover and reduce heat to a simmer. Cook, stirring occasionally until tender, about 20 minutes. Remove from heat, uncover, fluff with a fork and set aside to cool. Farro can be made ahead and refrigerated in an airtight container for up to 2 days.
While farro is cooking, prepare shrimp. In a large saucepan, stir to combine 3 cups (750 ml) sparkling wine with bay leaf, parsley and lemon zest and a good pinch of salt. Bring just to a boil over mediumhigh heat. Remove from heat, add shrimp and cover. Allow shrimp to steep in liquid until cooked through, about 5 minutes. Using a slotted spoon, remove shrimp and drain well. Refrigerate until cool before peeling and discarding shells. Keep shrimp refrigerated until ready to assemble salad.
When ready to assemble, preheat grill or grill pan over medium-high heat. Brush corn with grapeseed oil and season with salt and pepper. Grill corn, turning frequently, about 5 to 8 minutes. Set corn aside to cool for a minute before spreading with butter. Combine smoked paprika with chili powder and sprinkle over buttered corn cobs.
Place cooked farro in a large serving bowl and toss with ¼ cup (60 ml) Sparkling Vinaigrette. Add tomatoes, basil, cilantro and mint. Cut kernels off cobs and add to salad before gently tossing everything together. Top salad with poached shrimp and an additional drizzle of dressing. Serve Farro and Shrimp Salad with additional vinaigrette alongside, if desired.
Drink Pairings