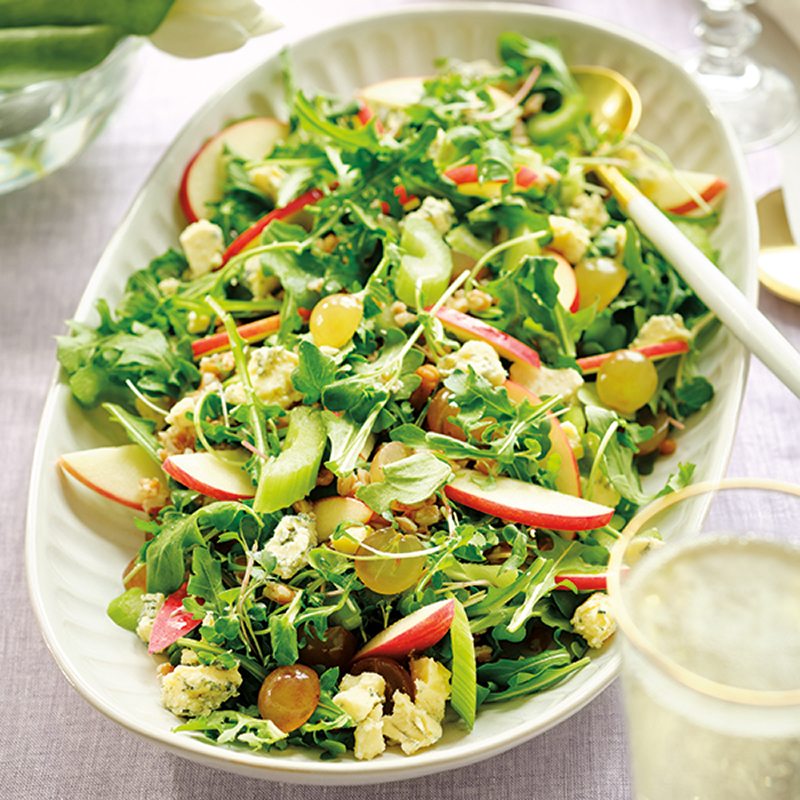 Ingredients
Serves 6
½ cup (125 ml) mayonnaise
2 tbsp (30 ml) Dijon mustard
1 tbsp (15 ml) Worcestershire sauce
1 tbsp (15 ml) minced chives
1 tbsp (15 ml) minced parsley
Salt and pepper, to taste
2 cups (500 ml) uncooked farro
3 cups (750 ml) mixed greens
2 stalks celery, cut into ½-in (1.25 cm) slices on the bias
1 apple, cored and cut into ½-in (1.25 cm) slices
½ cup (125 ml) crumbled Stilton cheese
¼ cup (60 ml) walnut pieces, toasted
1 cup (250 ml) microgreens
Instructions
Cook farro according to package directions, then let cool to room temperature. Set aside.
In a small bowl, mix together mayonnaise, mustard, lemon zest and juice, Worcestershire sauce, chives, parsley, salt and pepper until combined. Set aside.
In a salad bowl, mix together remaining ingredients. When ready to serve, toss with dressing and enjoy.
Drink Pairings