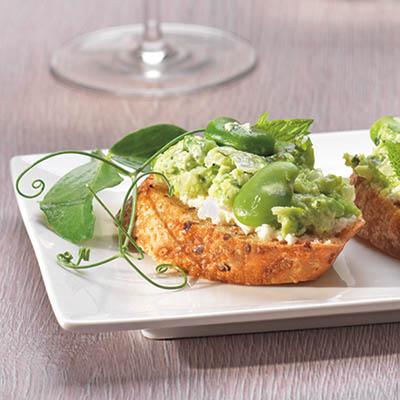 FAVA BEANS WITH FRESH RICOTTA ON GARLIC CROSTINIS
Ingredients
Serves about 32 crostinis
1 cup (250 ml) whipping cream
3 tbsp (45 ml) lemon juice
1 garlic clove, smashed and minced
1 large garlic clove, smashed and minced
1 long whole wheat baguette, cut into ½-in (1.25 cm) slices
salt and freshly ground black pepper, to taste
1½ cups (375 ml) shelled fava beans
½ cup (125 ml) diced sweet onion
3 tbsp (45 ml) finely chopped fresh mint
2 tbsp (30 ml) full-fat sour cream
2 tbsp (30 ml) lemon-infused olive oil, plus extra
salt and freshly ground black pepper, to taste
pea shoots and mint, for garnish
Instructions
To make GARLIC-INFUSED RICOTTA: Line a large sieve with cheesecloth and place over a large bowl or saucepan. Set aside.
Combine milk, cream and salt in a large heavy saucepan. Bring to a full rolling boil over medium-high heat. Then reduce heat to low and add lemon juice and garlic. Simmer, stirring constantly, until mixture curdles, about 2 minutes.
Pour mixture into sieve over bowl or saucepan and set aside to drain for about 1 hour. Discard liquid and transfer ricotta to a plastic container with a tight-fitting lid. Refrigerate until chilled. Can be refrigerated for up to 2 days. Makes about 3½ cups (875 ml).
To make CROSTINIS: Preheat oven to 350 F (180 C).
Warm olive oil and garlic in a measuring cup in the microwave, to infuse garlic flavours. Place baguette slices in a single layer on a parchment-lined baking sheet. Brush with olive oil. Season with salt and pepper.
Bake for 8 to 10 minutes or until crisp. Remove baking sheet to a rack to cool. Can be made ahead and stored in a tightly covered container for a couple of days
To make FAVA BEANS: Bring a large saucepan of water to a boil. Add fava beans and blanch for 1 minute. Drain and plunge into ice water. Drain again and, using your fingers, pinch off the skins and discard. Place ⅓ cup (75 ml) beans in a small bowl and set aside. Place remaining beans in a larger bowl. Coarsely mash with a fork. Set aside.
Heat olive oil in a heavy frying pan over medium heat. Add onion and sauté until soft and clear. Do not brown. Transfer to mashed fava beans along with mint, sour cream, lemon oil, and salt and pepper to taste. Gently fold together to blend. Fold in whole fava beans.
To serve, smear a generous spoonful of fresh ricotta on baguette slices. Spoon fava bean mixture on top. Drizzle with a little lemon oil and garnish with some pea shoots. Add an extra grating of black pepper and serve.
Drink Pairings