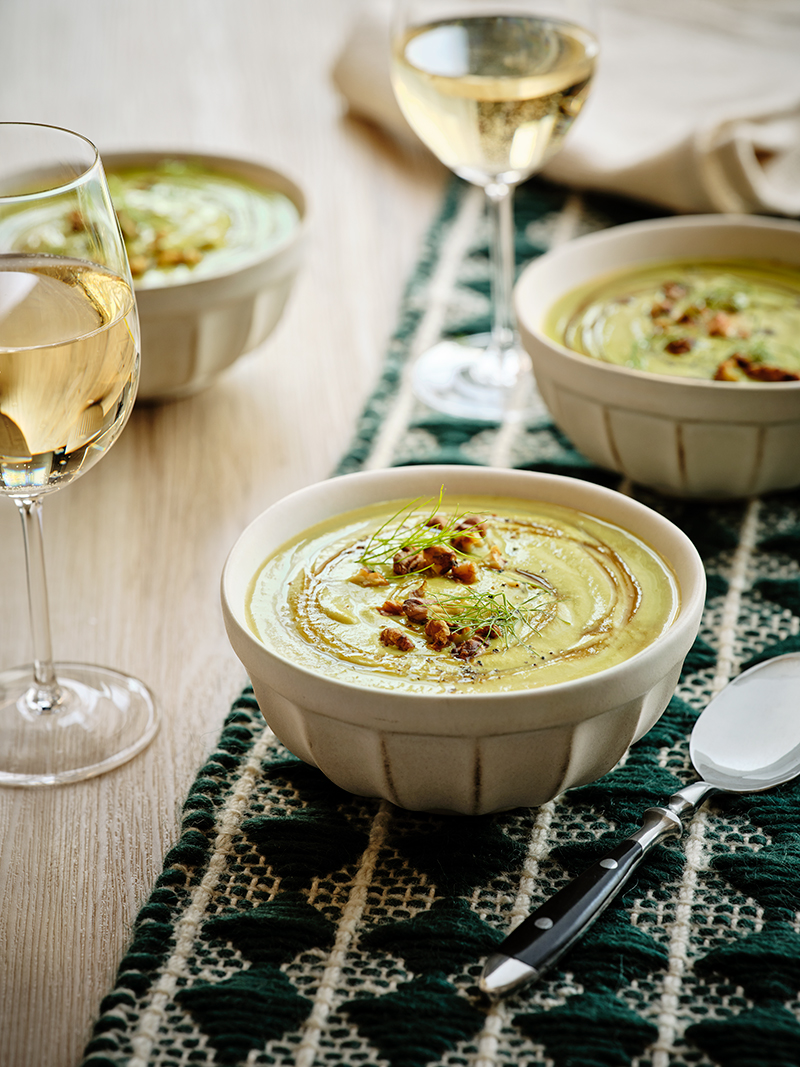 FENNEL, WALNUT & TURMERIC SOUP
A plant-based comfort food to get you through the winter.
Ingredients
Serves 4
2 tbsp (30 ml) coconut oil
3 leeks, white and light green parts chopped
½ tsp (2.5 ml) dried thyme
1 medium fennel bulb, cored and chopped, reserved fronds for garnish
1 pear, cored and chopped
1 tsp (5 ml) ground turmeric
½ cup (125 ml) raw walnut halves, plus extra for garnish
4 cups (1 L) vegetable stock
2 tbsp (30 ml) maple syrup
Instructions
In a large saucepan over medium-high, heat oil. Add chopped leeks and thyme. Sauté leeks until softened, about 4 minutes. Stir in chopped fennel and pears and cook, stirring frequently, for 2 minutes. Sprinkle turmeric over softened vegetables and continue to cook mixture, stirring often, for another 2 minutes. Stir in vegetable stock, walnuts and a good pinch of salt. Cover saucepan and bring to a boil. Reduce heat and let soup simmer until vegetables have softened and are fork-tender, about 12 to 15 minutes. Remove soup from heat.
Working in batches, blend soup until smooth. Transfer back to saucepan and adjust seasoning to taste.
Warm puréed soup over medium heat until warm. Divide hot soup among serving bowls, then garnish with fennel fronds, a drizzle of maple syrup and some chopped, toasted walnuts. Serve while warm.
Drink Pairings