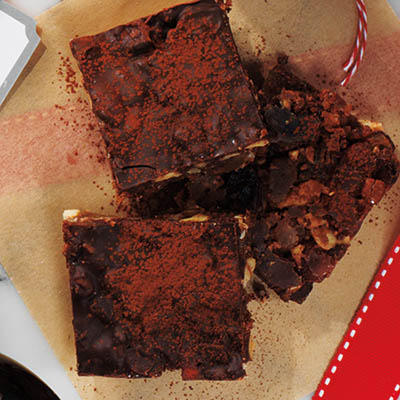 Ingredients
Serves about 48 squares
1 cup (250 ml) golden seedless raisins
½ cup (125 ml) candied red cherries, coarsely chopped
½ cup (125 ml) candied ginger, coarsely chopped
1 cup (250 ml) chopped pecans, toasted
¾ cup (175 ml) blanched almonds, coarsely chopped
4 oz (125 g) finely chopped dark chocolate, about ¾ cup (175 ml)
2 tbsp (30 ml) golden corn syrup or liquid honey
2 tbsp (30 ml) fine dry bread crumbs
2 generous pinches freshly grated nutmeg
3 tbsp (45 ml) coconut oil
8 oz (250 g) dark chocolate, melted
Instructions
Grease a 9 x 13-in (3.5 L) baking dish and line with parchment paper with ends overlapping edges. Preheat oven to 350 F (180 C).
In a large bowl, combine raisins, candied cherries, ginger, nuts and chopped chocolate. Toss to mix. Drizzle with syrup or honey and gently toss to blend. Sprinkle with bread crumbs, orange zest, and seasonings. Gently toss to evenly distribute.
Drizzle with oil and gently fold in. Transfer mixture to prepared baking pan. Firmly press mixture into even layer. Bake in centre of oven for 20 minutes.
Remove and place pan on a rack and spread top with melted chocolate using a palate knife. Cool in pan on a rack. Then refrigerate for 3 hours or until cool and firm. Lift out of pan onto a cutting board and cut into approximately 48 squares with a serrated knife.
Store in a tightly sealed container at room temperature for several days.
Drink Pairings