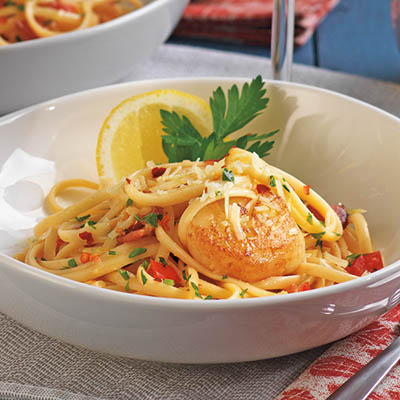 Ingredients
Serves 4
8 large scallops, side muscle removed
1 tsp (5 ml) ground cumin
1 tsp (5 ml) smoked paprika
¾ x 500 g package linguine or spaghetti
2 tbsp (30 ml) extra-virgin olive oil, divided
6 thin slices pancetta or 4 slices bacon, diced
3 large garlic cloves, smashed and minced
1 tbsp (15 ml) unsalted butter, plus extra if needed
½ cup (125 ml) coarsely grated Parmesan, plus extra for garnish
½ cup (125 ml) finely chopped Italian parsley
1 large tomato, seeded and finely diced
¼ tsp (2 ml) crushed chilies, plus extra if needed
freshly ground black pepper, to taste
Instructions
Place scallops in a bowl. Pat dry and dust with cumin and smoked paprika. Work in seasonings with your fingertips to evenly distribute. Set aside.
In a large saucepan with boiling salted water, cook pasta until al dente, about 8 minutes. Drain well, reserving ¼ cup (60 ml) pasta water in a small bowl, return pasta to saucepan. Stir in 1 tbsp (15 ml) oil to keep pasta strands from sticking together. Set pasta and reserved water aside.
In a large, heavy frying pan, heat 1 tbsp (15 ml) oil. Add diced pancetta or bacon, if using, and sauté over medium heat until crisp. Stir often. Stir in garlic and cook for 1 minute just until softened. Scrape pancetta or bacon and garlic into saucepan with pasta.
Wipe out pan with a paper towel and add butter to frying pan. Heat over mediumhigh until it sizzles. Working in batches, place several scallops in pan leaving 1-in (2.5 cm) between each, so as not to crowd them. Cook for 2 minutes, flipping them when they no longer stick to pan. Continue to cook scallops on reverse sides for 2 more minutes until golden brown and almost opaque in the centre. Transfer to a plate and cover to keep warm. Repeat with remaining scallops, adding more butter if needed.
In a bowl, whisk eggs and Parmesan. Return saucepan with cooked pasta to medium heat. Add egg mixture and, working quickly, gently toss with pasta until strands are silky and warmed through, taking care not to let eggs become scrambled. Add a little of the reserved pasta water, if needed. Fold in parsley, tomato, lemon zest and crushed chilies. Add more chilies, if desired. Serve hot pasta immediately in warmed bowls with seared scallops on top and a sprinkling of grated Parmesan and fresh ground pepper.
Drink Pairings