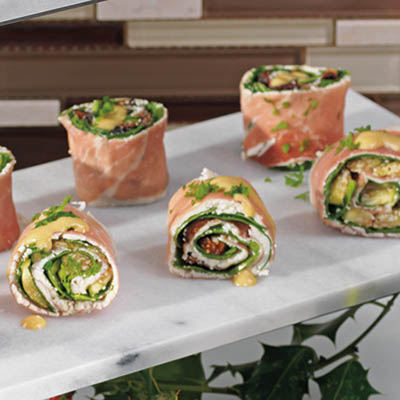 FIG AND PROSCIUTTO ROLL-UPS
Ingredients
Serves 24 to 36 rolls
12 slices prosciutto, not too thin
4 oz (125 g) goat's cheese, at room temperature
1 cup (250 ml) lightly packed baby spinach leaves
6 large fresh figs, such as kadota figs, or 12 large dried figs, thinly sliced
¼ cup (50 ml) shredded Parmesan
1 tbsp (15 ml) extra-virgin olive oil
1 tsp (5 ml) Dijon mustard
1 tsp ( 5 ml) freshly squeezed lemon juice
2 tbsp (30 ml) minced Italian parsley
Instructions
Lay a strip of plastic wrap on work surface. Place two slices prosciutto side by side.
Stir goat's cheese in a bowl until creamy. Lightly spread goat's cheese evenly over slices making sure to spread cheese to the edges for sealing. Arrange spinach leaves over cheese, then sliced figs, dividing and spacing evenly. Sprinkle with Parmesan. Sprinkle with pepper.
Gather up plastic wrap and gently but firmly roll up prosciutto, jelly roll fashion. Tuck rolls seam-side down and place in a square pan. Overwrap with plastic and refrigerate.
To serve, cut rolls crosswise in half or into 3 even-sized rolls. Transfer to serving platter.
Combine olive oil, Dijon and lemon juice in a squeeze bottle with a small spout. Shake well to blend. Dot over top of prosciutto rolls. Garnish with parsley and serve.
Drink Pairings