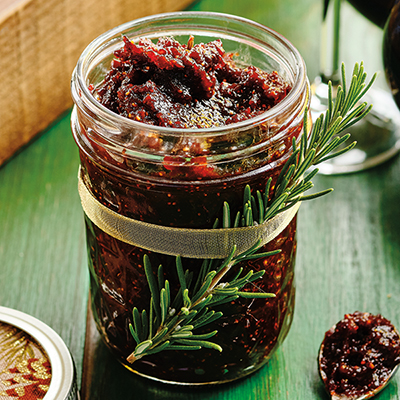 Fig, Port and Rosemary Jam
Ingredients
Serves about 3 cups (enough to fill six ½ cup (125 ml) jars)
¾ cup (175 ml) granulated sugar
1 cup (250 ml) + ¼ cup (60 ml) water, divided, plus extra as needed
¾ cup (175 ml) + ¼ cup (60 ml) port, divided, plus extra as needed
1 lb (454 g) dried Mission figs, stemmed and halved
¼ cup (60 ml) freshly squeezed lemon juice
1 tbsp (15 ml) + 1 tsp (5 ml) finely chopped fresh rosemary leaves, plus 6 sprigs for garnish (optional)
Instructions
In a heavy-bottomed saucepan, combine sugar, 1 cup (250 ml) water, ¾ cup (175 ml) port, figs, lemon juice, rosemary and salt. Bring just to a boil, lower heat and simmer for about 15 minutes, stirring occasionally, until figs have softened considerably. Allow to cool for 10 minutes.
Using an immersion blender, pulse mixture until smooth, adding a little more water or port to loosen it if necessary. To finish, fold in remaining ¼ cup (60 ml) water and ¼ cup (60 ml) port. Jam should be thick but spreadable.
Divide jam between six ½-cup (125 ml/4 oz) jars and seal with lids. Store in refrigerator for up to 3 weeks. This jam is excellent with cheese. To gift, wrap string around the jar and attach a rosemary sprig, if desired.
Drink Pairings