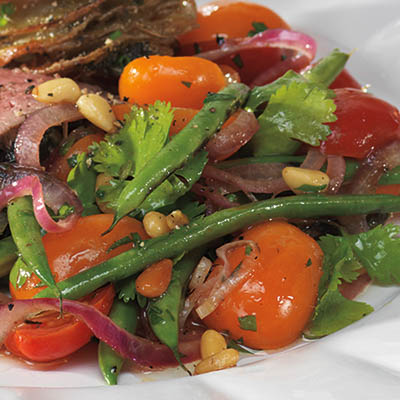 FIRE-KISSED GREEN BEAN SALAD
Ingredients
Serves 12
½ cup (125 ml) extra-virgin olive oil
¼ cup (60 ml) fresh orange juice
½ tsp (2 ml) Sriracha hot sauce, plus extra
⅛ tsp (0.5 ml) ground black pepper
2 tbsp (30 ml) Asian fish sauce
2 tbsp (30 ml) sherry vinegar
2 tbsp (30 ml) fresh lime juice
1 tsp (5 ml) sea salt, plus extra for seasoning
2 lbs (1 kg) green beans, trimmed
1 small red onion, thinly sliced
1 tbsp (15 ml) grapeseed or coconut oil
3 cups (750 ml) cherry tomatoes, halved
¼ cup (60 ml) lightly packed fresh cilantro
2 tbsp (30 ml) fresh parsley, roughly chopped
½ cup (125 ml) toasted pine nuts
freshly ground black pepper, to taste
Instructions
Preheat grill over medium-high heat.
Meanwhile, in a blender combine first 8 ingredients until well combined. Season to taste with extra salt and hot sauce. Set dressing aside.
Place a grill basket on hot grill and allow to preheat for 5 minutes.
Meanwhile, in a large bowl toss together beans and red onion with grapeseed oil. Working in batches, arrange half bean mixture in preheated grill basket, close lid on barbecue and cook, tossing occasionally, until beans are lightly charred, about 5 to 7 minutes. Transfer to a large bowl and grill remaining mixture.
Add cherry tomatoes and half the dressing to grilled bean mixture. Toss and let sit for 5 minutes before stirring in cilantro, parsley and pine nuts. Season to taste with more dressing, salt and pepper as needed. Best served warm or at room temperature.
Drink Pairings