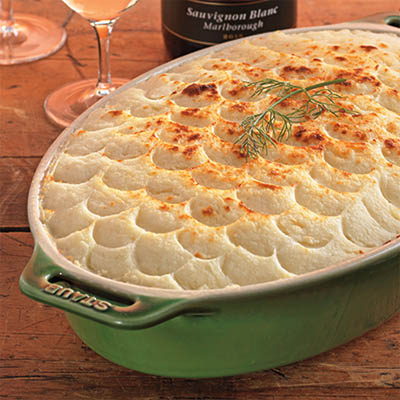 Ingredients
Serves 8
¼ cup (60 ml) white vermouth
1 lb (500 g) wild pink salmon fillet
1 lb (500 g) firm, white fish, such as halibut or haddock
½ lb (250 g) scallops, heel removed
½ lb (250 g) medium-sized prawns, shelled and deveined
6 tbsp (90 ml) all-purpose flour
¼ tsp (1 ml) each, salt, black pepper and nutmeg
1 tbsp (15 ml) finely chopped fresh dill
3 cups (750 ml) mashed potatoes
Instructions
Preheat oven to 400 F (200 C).
In a large saucepan add water, vermouth, lemon and bay leaf. Bring to a boil; reduce heat to simmer. Add salmon and poach, covered, for 4 to 5 minutes, or until desired doneness. Remove with a slotted spoon to a large bowl and reserve. Repeat with white fish, simmer in hot broth and add to bowl once cooked. Poach scallops for 2 minutes in poaching liquid and remove with slotted spoon to bowl. Repeat with prawns.
Once all seafood has been poached, strain poaching liquid through a finemeshed sieve set over a bowl and reserve. When salmon and white fish have cooled, remove from bowl and discard skin. Break fish into chunks.
To prepare sauce, in a large saucepan melt butter over medium heat. Add flour and whisk in until smooth. Cook for 2 minutes, whisking constantly. Gradually whisk in 2 cups (500 ml) of reserved poaching liquid until smooth. Increase heat to medium and bring mixture to a simmer, whisking constantly. Remove pan from heat and whisk vigorously to break up any lumps. Add lemon juice, salt, pepper, nutmeg and dill and stir well.
Gently fold fish, scallops and prawns into sauce and pour into a 12 cup (3 L) baking dish. Top with mashed potatoes, spreading evenly using the edge of a spoon to create scallop shapes in the surface (like fish scales) making sure potatoes are level for even browning during baking.
Bake, uncovered, for 35 to 40 minutes until top is golden and filling is bubbly.
Drink Pairings