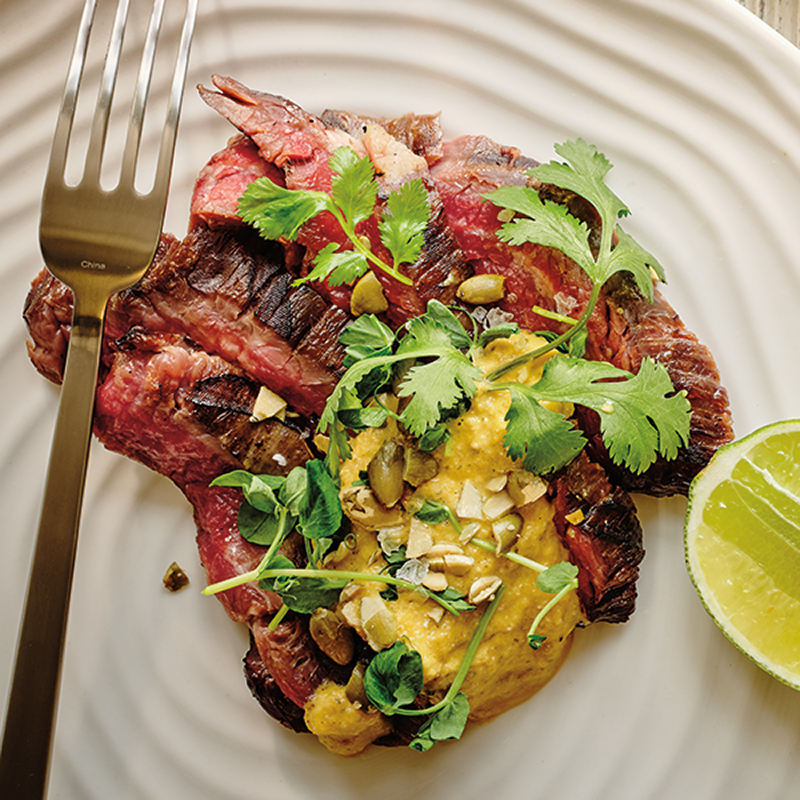 Flank Steak served with Roasted Pepper Pesto
Ingredients
Serves 4
28 oz (794 g) flank steak
2 garlic cloves, roughly chopped, divided
4 tbsp (60 ml) extra-virgin olive oil, divided
1 tbsp (15 ml) red wine vinegar
1 tsp (5 ml) dried oregano
¼ tsp (1 ml) ground cumin
¼ cup (60 ml) toasted pumpkin seeds, plus extra for garnish
½ tsp (2.5 ml) kosher salt, plus extra to taste
¼ tsp (1 ml) pepper, plus extra to taste
1 small jalapeño pepper, seeded (optional), or to taste
1 small handful cilantro leaves, plus extra for garnish
1 small handful microgreens, for garnish (optional)
Instructions
Marinate steak the night before. Combine 1 garlic clove, 2 tbsp (30 ml) olive oil, vinegar, oregano and cumin. Rub all over steak and let marinate in refrigerator, covered, overnight.
Roast yellow peppers; this can be done over a medium to high gas flame on the stove or barbecue, or in an oven under the broiler. Roast, turning often, until skins are evenly charred and blackened all over, about 7 to 15 minutes, depending on heat source. Place peppers in a bowl and cover tightly with plastic wrap. Allow to cool completely.
Peel peppers and remove seeds and stems. Rinse away any remaining charred skin under running water. Dry peppers well.
In a small food processor or blender, combine peppers, remaining garlic clove and 2 tbsp (30 ml) olive oil, pumpkin seeds, lime zest and juice, ½ tsp (2.5 ml) kosher salt, ¼ tsp (1 ml) pepper, jalapeño and cilantro. Blend until smooth. Taste and adjust seasoning as needed. Set aside; this can be made up to 1 day in advance and stored in refrigerator.
1 hour before cooking, remove steak from refrigerator and let it come to room temperature.
Preheat barbecue to medium-high. Season steak with salt and pepper. Grill for 4 to 7 minutes per side, until it reaches an internal temperature of 125 F (51 C) for rare to 135 F (57 C) for medium-rare. Let steak rest for 5 minutes, then slice it against the grain. Garnish with pumpkin seeds, cilantro and microgreens and serve with roasted pepper pesto.
Drink Pairings