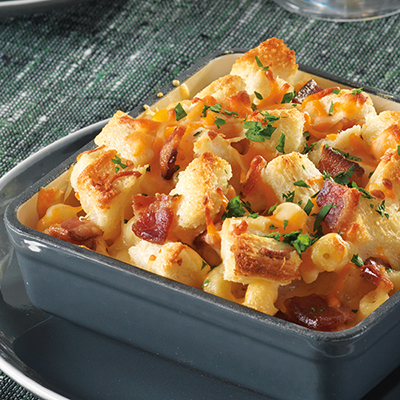 FOUR CHEESE MACARONI WITH BACON CROUTON CRUST
Ingredients
Serves 6 to 8
6 slices lean, thick-sliced bacon, sliced into ½-in (1.25 cm) pieces
½ cup (125 ml) unsalted butter, divided, plus extra for greasing
5 to 6 slices white bread, crusts removed and cut into ½-in (1.25 cm) dice
3 cups (750 ml) grated sharp cheddar, divided
2 cups (500 ml) grated Gruyère cheese, divided
1 cup (250 ml) grated Pecorino Romano cheese, divided
1 lb (500 g) elbow macaroni (or scoobi doo or shells)
½ cup + 2 tbsp (155 ml) all-purpose flour
¼ tsp (1 ml) ground nutmeg
1 cup (250 ml) grated Monterey Pepper Jack cheese, divided
Instructions
In a non-stick skillet over medium heat, add bacon and fry until crispy. Drain on paper towel. Divide bacon in 2 portions and coarsely chop 1 portion to smaller pieces, reserving both separately.
Heat oven to 375 F (190 C). Grease a 9 x 13-in (3 L) baking dish, casserole or individual baking dishes and set aside.
Place diced bread in a bowl. Melt 2 tbsp (30 ml) of butter and drizzle over bread, tossing well to coat, set aside. In another bowl, mix together 1 cup (250 ml) grated cheddar, ½ cup (125 ml) Gruyère and ½ cup (125 ml) Pecorino Romano, and mix in with buttered bread and coarsely chopped bacon.
Cook pasta according to package directions but remove 2 to 3 minutes less than recommended cooking time, until outside is cooked and inside is underdone. Transfer to a colander and rinse under cold water and drain well. Set aside.
In a medium saucepan over medium heat, heat milk until scalding. In same pot used for cooking pasta, melt remaining butter over medium heat. When bubbling, whisk in flour and cook 1 minute. While whisking, slowly pour in hot milk and whisk constantly until mixture thickens and bubbles. Remove from heat. Stir in salt, nutmeg, pepper, cayenne, Monterey Pepper Jack and remaining 2 cups (500 ml) cheddar, 1½ cups (375 ml) Gruyère and ½ cup (125 ml) Pecorino Romano. Stir until melted and blended then stir in drained pasta and reserved bacon. Mix well.
Pour mixture into prepared baking dishes. Sprinkle reserved bread, cheese and bacon mixture over top. Bake until browned on top, about 30 minutes. Transfer to wire rack to cool 5 minutes before serving.
Drink Pairings