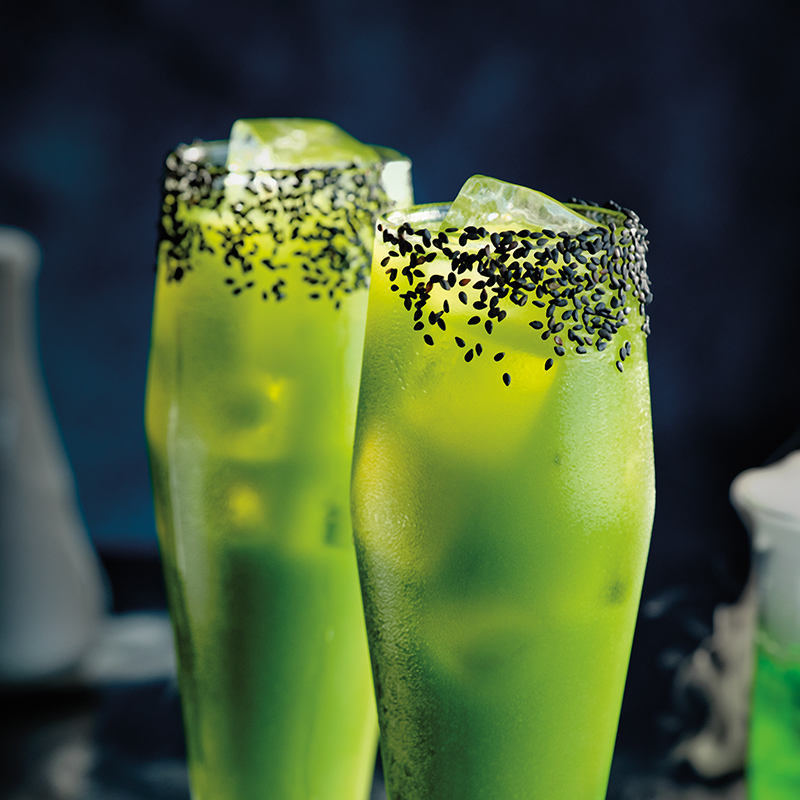 Frankenstein
Over 200 years ago, Mary Shelley wrote of a creature that had no name and was brought to life by the mad scientist Dr. Frankenstein. Like the monster that Frankenstein created, this green cocktail is pieced together from various parts, and is probably just what a monster needs, a bright and vibrant boost of vitamins.
Ingredients
Serves 1
½ long English cucumber, rinsed, seeded
1 cup (250 ml) packed spinach leaves
½-in piece fresh ginger, peeled
1½ oz (45 ml) Crown Royal Apple Whisky
¾ oz (22 ml) Chartreuse Green
½ oz (15 ml) simple syrup*
black sesame seeds, for rim garnish
Instructions
Press all of the fruit and vegetables through a juicer**, alternating ingredients to maximize extraction (or use a blender for a thicker texture). Fine strain juice into a cocktail shaker with cubed ice and add apple whisky, chartreuse, lemon juice and simple syrup. Shake to chill. Moisten half the outer rim of a Collins glass and dip into black sesame. Strain drink over new ice in rimmed glass.
* 1:1 ratio of sugar dissolved in boiling water. Let cool before using.
** A "slow" juicer is the ideal method and will retain 80 percent more of the nutritional impact of the fruits and vegetables. A "highspeed" juicer will oxidize the juice before it's even left the juicer, reducing nutrition dramatically and Frankenstein needs all the health benefits available!
Featuring