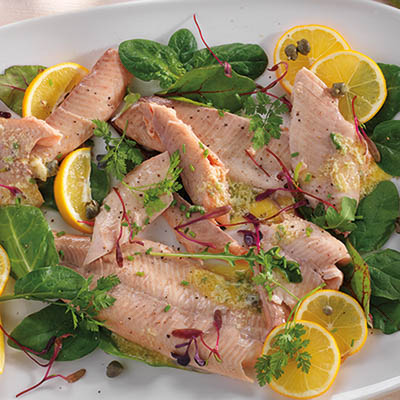 FRESH TROUT WITH LEMON CAPER AIOLI
Ingredients
Serves 6
1 large garlic clove, smashed and finely minced
2 tbsp (30 ml) grape seed oil
1 tsp (5 ml) Dijon mustard
1 tbsp (15 ml) minced fresh chives
2 tsp (10 ml) capers, rinsed and drained
6 x 6 oz (180 g) whole trout, skin on
1 tbsp (15 ml) grape seed oil
1 lemon, cut into wedges, for garnish
micro greens and chives, for garnish
Instructions
To make LEMON CAPER AIOLI: Place garlic in a mini food processor and whirl. Gradually add oil until a smooth emulsion has formed. Add Dijon, lemon zest and mayonnaise and whirl to blend. Transfer to a small bowl and stir in chives and capers. Seal. Can be refrigerated for up to a couple of days.
To make TROUT: Preheat oven to 350 F (180 C). Blot fish dry with paper towel. Place on a parchment-lined baking sheet and gently rub with oil. Bake in centre of preheated oven for 12 to 15 minutes or until fish is almost cooked through. You want it a little rare as it will continue to cook once removed from oven.
Once cooked, gently peel off skin from fish and discard heads. Remove fillets of fish from spine and place on a heated serving platter. Garnish with micro greens and chives. Drizzle with a little sauce and serve remaining sauce alongside. Excellent with baby spring vegetables and basmati rice.
Drink Pairings