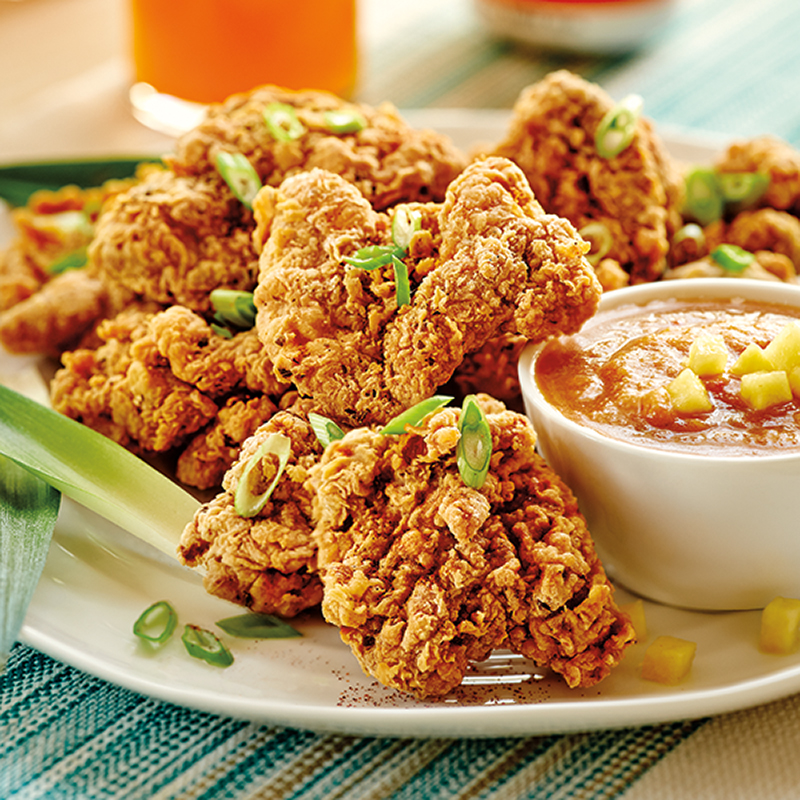 Fried Chicken with Pineapple Hot Sauce
Ingredients
Serves 6
12 oz (340 g) fresh pineapple, cut into chunks
2 Thai red chilies, seeded and finely chopped
½ tsp (2.5 ml) smoked paprika
½ tsp (2.5 ml) ground cayenne
½ tsp (2.5 ml) kosher salt
1 tbsp (15 ml) clover honey
1 tbsp (15 ml) unsalted butter
1½ lbs (750 g) boneless, skinless chicken thighs (about 6 thighs), cut in half
2 large eggs, lightly beaten
1½ tsp (7 ml) smoked paprika
freshly ground black pepper, to taste
½ cup (125 ml) all-purpose flour
½ cup (125 ml) cornstarch
1 tbsp (15 ml) dried oregano
1 green onion, thinly sliced, for garnish
Instructions
Start by making Pineapple Hot Sauce. In a blender, purée pineapple chunks until smooth. Pour into a medium saucepan along with lime zest and juice, chilies, smoked paprika, cayenne and salt. Bring to a hard simmer over medium-high heat and let cook, stirring very often, for 5 minutes. Add honey and cook another minute, stirring constantly. Transfer sauce to a heatproof bowl and stir in butter. Set aside to cool to room temperature. Sauce may be made ahead and refrigerated in an airtight container for up to 5 days before using.
To make Fried Chicken, start by setting out 2 medium bowls on a clean work surface. In 1 bowl, whisk together eggs and smoked paprika along with a good pinch of salt and black pepper. In other bowl, whisk together flour, cornstarch and oregano. Set aside.
In a large, heavy-bottomed stockpot, pour 3-in (8 cm) oil. Heat oil to 350 F (180 C) over medium heat.
While oil is heating, dredge chicken. Dip each piece of chicken into flour mixture, shaking off any excess before dipping in egg mixture then back into flour mixture, to coat. Transfer to a wire rack and repeat with remaining chicken pieces. Working in batches, fry a few chicken pieces at a time, making sure not to crowd pot, turning occasionally until golden brown all over, about 5 minutes total. Place chicken on a paper towel-lined baking tray and lightly sprinkle with salt. Repeat with remaining chicken.
Arrange chicken on a platter garnished with a sprinkle of green onion, and serve with Pineapple Hot Sauce for dipping.
Drink Pairings