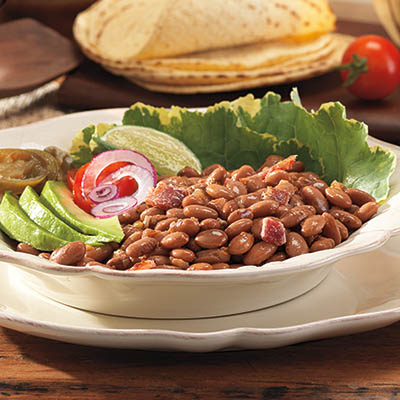 Ingredients
Serves 10
1 x 900 g package dry pinto beans
1 large Vidalia onion, finely diced
3 large garlic cloves, minced
4 cups (1 L) vegetable or chicken stock
1 x 355 ml bottle Mexican beer
3 thick slices uncooked bacon, diced
2 jalapeño peppers, seeded, finely diced
3 large dried avocado leaves, crumbled
2 tbsp (30 ml) brown sugar
1 tbsp (15 ml) dried oregano
1 tbsp (15 ml) chili powder
2 tsp (10 ml) ground cumin
1 tsp (5 ml) smoked paprika
2 tbsp (30 ml) tomato paste
1 avocado, peeled, pitted and sliced
2 fresh tomatoes, seeded and diced
½ cup (125 ml) chopped fresh cilantro (optional)
soft tortilla wraps (optional)
Instructions
Place beans in a large bowl, cover with water with 2-in (5 cm) to spare. Cover and set aside for 12 hours or overnight. Drain, rinse thoroughly under cold running water, drain again.
Heat oil in a large heavy-bottomed saucepan. Add onion and sauté until soft and clear. Stir in garlic, stock and beer and bring to a boil. Add beans along with diced bacon, peppers, lime, avocado leaves and cinnamon stick. Add brown sugar, oregano, chili powder, cumin and paprika and stir to blend. Cover and cook over low to medium-low heat for 2 hours or until almost tender. Stir in tomato paste and salt cook for 1 more hour or until beans are tender. Do not add tomato paste and salt until last hour of cooking or beans will be tough.
Serve with soft tortillas and top with diced avocado, tomatoes, cilantro and a drizzle of sour cream.
Drink Pairings