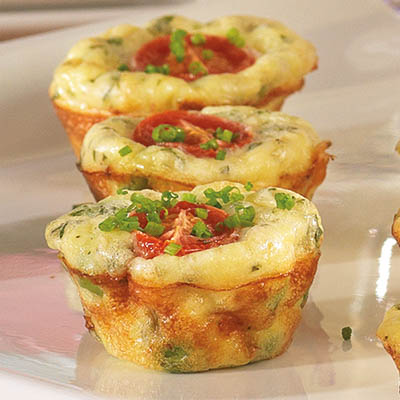 Ingredients
Serves 24 Bites
1 tbsp (15 ml) extra-virgin olive oil, plus extra for greasing
1 small yellow onion, finely chopped
1 tsp (5 ml) each, chopped fresh thyme and tarragon leaves
1 cup (250 ml) fresh, or thawed frozen peas
½ cup (125 ml) grated Gruyère cheese
¼ tsp (1 ml) freshly ground black pepper
12 grape tomatoes, halved
chopped fresh chives, for garnish
Instructions
Preheat oven to 350 F (180 C). Grease a 24-cup, non-stick mini muffin tin and set aside.
In a large frying pan, heat oil over medium heat. Add onion and cook, stirring occasionally, until onion is soft, about 5 minutes. Stir in garlic and continue to cook for another 2 minutes. Remove from heat, stir in thyme, tarragon and peas, then set aside to cool to room temperature.
In a large bowl, whisk together eggs with cheese, cooled pea mixture, salt and pepper until well combined. Spoon or pour mixture into prepared muffin tin, making sure each cup gets some peas and cheese. Top each cup with a tomato half, cut-side facing up, then carefully transfer muffin tin to oven and bake until egg mixture is puffed and set, about 12 to 15 minutes. Allow to cool for 2 minutes in pan before turning out Frittata Bites.
Arrange Frittata Bites on a platter and sprinkle with chopped chives. Serve warm or at room temperature.
Drink Pairings