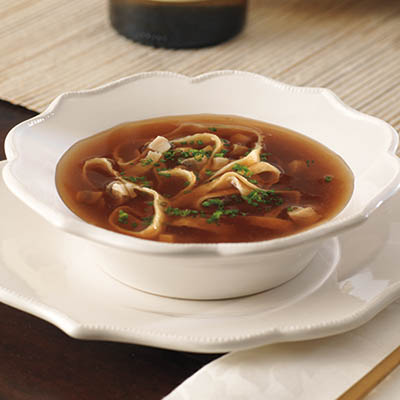 Ingredients
Serves 4 to 6
½ cup (125 ml) whole milk
½ cup (125 ml) all-purpose flour
½ tsp (2 ml) vegetable oil
6 cups (1.5 L) rich beef broth
1 cup (250 ml) cleaned oyster or white button mushrooms, coarsely chopped
3 tbsp (45 ml) finely chopped chives, for garnish
Instructions
Whisk eggs and milk together in a bowl. Mix flour and salt together then stir into egg mixture, whisking until smooth.
In a 10-in (25 cm) non-stick skillet, heat oil over medium heat. Pour in about 3 tbsp (45 ml) of the batter and quickly tilt skillet, swirling batter to coat bottom of pan. Cook crêpe until lightly browned, about 1 minute, then flip with a spatula and cook for about 15 to 20 seconds more. Transfer to a large plate. Repeat process with remaining batter, stacking crêpes as they are done. Allow crêpes to cool.
In a saucepan, bring mushrooms and broth to a boil, then reduce heat to simmer 5 minutes or until mushrooms have softened.
To serve, roll 2 to 3 crêpes at a time into tight cylinders and cut crosswise into thin ¼-in (.5 cm) slices. Divide among warm soup bowls, add hot broth and garnish with chopped chives.
Drink Pairings