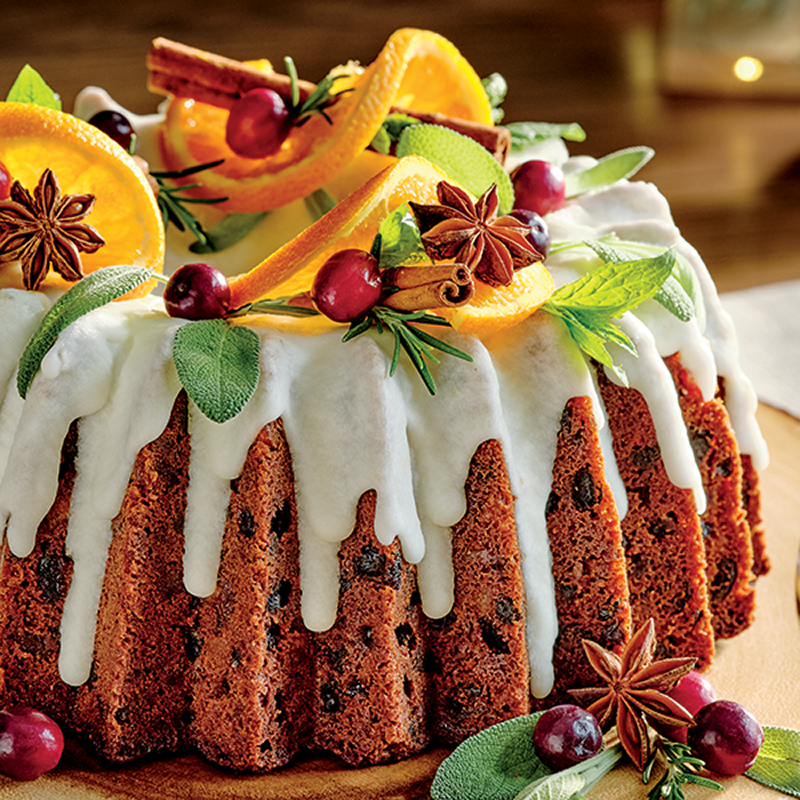 Ingredients
Serves 10 - 12
¾ cup (175 ml) orange juice (no pulp), divided
1 cup (250 ml) Bacardí Black Rum, divided
½ cup (125 ml) crystallized ginger, chopped into ¼-in (0.5 cm) cubes
¾ cup (175 ml) dried currants
¾ cup (175 ml) candied lemon peel, chopped into ⅓-in (0.8 cm) cubes
¾ cup (175 ml) candied orange peel, chopped into ⅓-in (0.8 cm) cubes
¾ cup (175 ml) dried apricots, chopped into ⅓-in (0.8 cm) cubes
½ cup (125 ml) dried figs, chopped into ⅓-in (0.8 cm) cubes
½ cup (125 ml) pitted dates, chopped into ⅓-in (0.8 cm) cubes
½ cup (125 ml) prunes, chopped into ⅓-in (0.8 cm) cubes
½ tsp (2.5 ml) ground allspice
1 tsp (5 ml) ground cinnamon
¼ tsp (1 ml) ground cloves
¼ tsp (1 ml) ground nutmeg
½ tsp (2.5 ml) ground ginger
8 oz (227 g) flour, divided
1 tsp (5 ml) baking powder
½ tsp (2.5 ml) table salt
1¼ cups (310 ml) butter, divided
1 cup (250 ml) brown sugar, packed
1 tsp (5 ml) almond extract
½ tsp (2.5 ml) orange extract
1 tsp (5 ml) vanilla extract, divided
¼ cup (60 ml) molasses (optional)
2 large oranges, zest only
2 tsp (10 ml) grated ginger
2 cups (500 ml) icing sugar
2 to 3 tbsp (30 to 45 ml) milk
cranberries, currants, oranges, sage, mint, rosemary, cinnamon and/or star anise, for garnish
Instructions
Combine ½ cup (125 ml) orange juice and ½ cup (125 ml) rum in a large non-reactive bowl. Add crystallized ginger, raisins, sultanas, currants, lemon peel, orange peel, apricots, figs, dates and prunes and mix well. Cover and let sit overnight on counter in a cool, dry place.
Move oven rack to centre of oven and preheat oven to 325 F (170 C).
In a medium bowl, sift together ground spices, 7 oz (200 g) flour, baking powder and salt. Set aside.
In a large bowl, beat 1 cup (250 ml) butter, brown sugar, almond extract, orange extract and ½ tsp (2.5 ml) vanilla extract until lighter in colour and fluffy.
Add eggs one at a time, beating well after each addition, until well incorporated. Beat in molasses, if using. Mix in orange zest and grated ginger. Fold in half of spiced flour mixture. Add remaining ¼ cup (60 ml) orange juice and mix well. Fold in remaining spiced flour mixture.
Stir up dried fruit mixture so that everything is evenly incorporated. Sprinkle remaining 1 oz (27 g) flour over fruit to lightly coat. Add fruit to batter and mix until evenly incorporated.
Grease sides of large Bundt pan (10 to 12 cup/2.5 to 3 L capacity) just before pouring in batter. Bake for 1½ hours, or until skewer inserted into cake comes out clean. Remove from oven and let rest for 5 minutes, then invert onto wire rack to cool completely. Once cool, slowly drizzle desired amount of remaining rum (up to ½ cup (125 ml)) evenly over cake, allowing liquid to fully soak in.
Melt remaining ¼ cup (60 ml) butter and let cool slightly. In a medium bowl, whisk together melted butter, icing sugar and remaining ½ tsp (2.5 ml) vanilla extract. Whisk in 2 to 3 tbsp (30 to 45 ml) milk to achieve desired consistency for sugar glaze. Spoon glaze over cooled cake and decorate with fruit, herbs and/or spices, as desired. Cake will keep in an airtight container in a cool, dry place for 2 weeks.
Drink Pairings