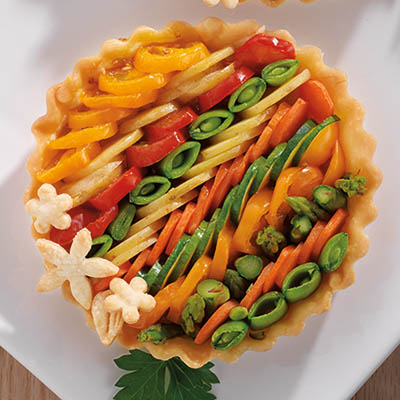 Ingredients
Serves 4
2 store-bought, ready-to-roll pie crusts
1 large yellow onion, cut into small dice
1 cup (250 ml) grated Gruyère
½ lb (250 g) fresh asparagus, trimmed and cut into ½-in (1.25 cm) pieces
½ lb (250 g) small spring carrots (assorted colours), peeled and cut into ⅛ -in (3 mm) slices
½ lb (250 g) snow or sugar snap peas, cut into ½-in (1.25 cm) pieces
8 small nugget potatoes, sliced ⅛ -in (3 mm) thick
2 small zucchinis (green or yellow), sliced ⅛ -in (3 mm) thick
½ lb (250) small cherry tomatoes (assorted colours), cut into ⅛ -in (3 mm) slices
salt and freshly ground black pepper, to taste
Instructions
Preheat oven to 400 F (200 C).
Roll out each pie crust to cover two 4-in (10 cm) tart pans or pie plates. Cut each pie crust into two 5-in (12 cm) circles and place circles in tart pans or pie plates. Using a small cookie cutter, shape of your choice, cut about 20 tiny ½-in (1.25 cm) cut-outs from remaining crust and place on parchment paper-lined baking sheet.
Whisk egg in a small bowl with 1 tsp (5 ml) cold water. Using a small brush, dab back of cut-out shapes. If using a pie plate, place cut-outs around edges of pie crusts to garnish. Then brush egg wash over edges of crusts and decorative cut- outs. (Alternatively, if using tart pans, bake cuts-outs separately and arrange over edges just before serving.) With a fork, prick bottom of pie crust, line with parchment paper and fill bottom with pie weights.
Place pie plates or pans on a baking sheet and bake in preheated oven until set and crusts are golden, about 10 to 15 minutes. Remove from oven, remove parchment paper and pie weights and set aside to cool.
In a medium-sized frying pan, heat olive oil over medium heat. Once hot, add diced onion and garlic, cooking until fragrant, 5 to 7 minutes. Divide onion mixture among tart pans, spreading to cover bottom of each crust. Top with grated Gruyère.
To blanch vegetables, fill a large bowl with ice water and set aside. Bring a large pot of water to a boil and add asparagus. Cook for 1 minute, then remove with slotted spoon to bowl filled with iced water. When completely cooled, remove with slotted spoon and blot dry with paper towel. Repeat with remaining vegetables.
ine pie crusts with vegetables, placing them on top of Gruyère in rows to create a layered effect and trimming as necessary, so they line up with edges of pie crusts.
Place in oven and bake for 10 to 15 minutes or until cheese has melted and vegetables have heated through, 10 to 15 minutes.
Remove from oven and serve hot or cool to room temperature and serve.
Drink Pairings