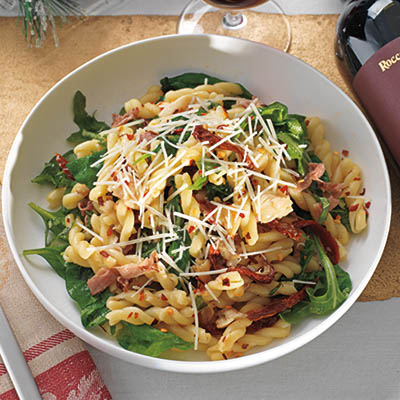 GARGANELLI WITH SUN-DRIED TOMATOES, PROSCIUTTO, HERBS AND ROASTED GARLIC
Ingredients
Serves 4 to 6
2 to 4 large heads garlic
1 to 2 tsp (5 to 10 ml) olive oil
sprigs fresh thyme leaves
1 lb (500 g) dried garganelli pasta
½ tsp (2 ml) dried red pepper flakes
½ cup (125 ml) roasted garlic, coarsely chopped
¼ cup (60 ml) sun-dried tomatoes in oil, drained well and coarsely chopped
6 oz (180 g) thinly sliced prosciutto, cut into thin juliennes
fresh baby spinach leaves and fresh baby arugula
¼ cup (60 ml) each, chopped fresh basil, coarsely chopped flat-leaf parsley leaves from 5 to 6 sprigs thyme
grated Romano or Parmesan
Instructions
To make ROASTED GARLIC: Preheat oven to 400F (200C). Peel and discard outer layers of the garlic bulb. Cut the top of the heads, exposing the cloves of garlic. Place garlic heads on a sheet of aluminum foil set on a small baking dish. Drizzle olive oil over each one, rubbing over all the exposed garlic cloves. Remove leaves from thyme sprigs and sprinkle all over garlic. Cover and lightly seal with another piece of aluminum foil and bake for 30 to 35 minutes, or until cloves are lightly browned and soft. Remove top foil and allow to cool. Squeeze the roasted garlic cloves out of their skins.
To make GARGANELLI: Bring a large pot of salted water to a rapid boil and cook pasta until al dente or according to package directions. Drain.
Heat a saucepan over medium heat, add olive oil, roasted garlic and red pepper flakes, sauté for 1 to 2 minutes. Add prosciutto and sauté until crispy, add sun-dried tomatoes, spinach, arugula, basil, parsley and thyme. Cook until leaves have wilted. Add pasta and toss well to combine. Season with salt and pepper. Serve with grated Romano or Parmesan.
Drink Pairings