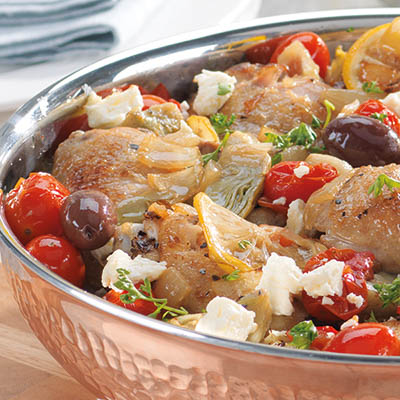 GARLIC GREEK CHICKEN THIGHS
Ingredients
Serves 4
2 tbsp (30 ml) extra-virgin olive oil, divided
1 tbsp (15 ml) dried oregano, divided
1 pinch red pepper chili flakes
8 chicken thighs, bone-in, skin-on
salt and pepper, to taste
1 large onion, ½-in (1.25 cm) diced
½ red or yellow bell pepper, cored, cut into ½-in (1.25 cm) dice
1 cup (250 ml) canned artichoke hearts, drained and quartered
1 cup (250 ml) low-sodium chicken broth
1 basket grape or cherry tomatoes
½ cup (125 ml) crumbled feta cheese
Instructions
In a resealable plastic bag or mixing bowl, add 1 tbsp (15 ml) olive oil, ½ tbsp (7 ml) oregano, chili flakes and chicken thighs. Season with salt and pepper. Refrigerate, turning a few times, to marinate for a couple hours.
Preheat oven to 350 F (180 C).
In a large ovenproof skillet, heat remaining olive oil until hot. Add 4 marinated chicken thighs, skin side down. Brown chicken skin, about 4 to 5 minutes, then turn over. Add 4 garlic cloves, let cook 2 minutes until garlic starts to brown. Turn garlic to prevent burning. Remove thighs and garlic to a plate and set aside. Repeat with remaining thighs and garlic.
Remove excess fat from skillet, leaving about 1 tbsp (15 ml) fat remaining. Add onion and bell pepper, cook until softened, about 3 to 4 minutes. Add artichokes, lemon slices and remaining oregano, cook a further 3 minutes. Pour chicken broth into skillet and scrape up any brown bits. Return chicken thighs and garlic to pan along with cherry tomatoes, olives and drizzle lemon juice. Transfer to oven and cook 45 to 50 minutes, until chicken is cooked through.
A few minutes before removing from oven, crumble feta cheese over skillet and return to oven for a few minutes. Serve with rice or salad.
Drink Pairings