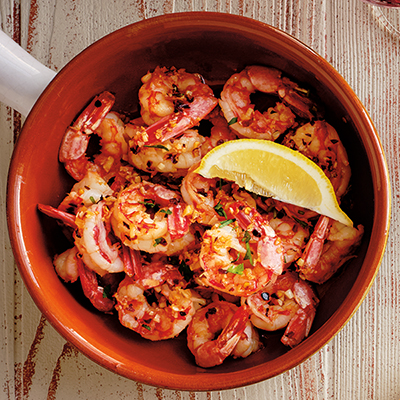 Ingredients
Serves 4
1 lb (454 g) sustainable prawns, peeled and deveined
½ cup (125 ml) extra-virgin olive oil
3 large garlic cloves, chopped
1 pinch chili flakes, or to taste
salt and pepper, to taste
2 tbsp (30 ml) Fino or Amontillado sherry
2 tbsp (30 ml) chopped parsley leaves
Instructions
Rinse prawns under cold running water for 2 minutes. Drain and thoroughly pat dry with paper towel.
In a large heavy-bottomed frying pan, heat oil over high heat. Once oil shimmers, add prawns to pan. Cook on one side for 30 seconds, flip, then stir in garlic, chili flakes, salt and pepper and cook for 1 more minute.
Add sherry and cook for 1 more minute, or until prawns are opaque and cooked through. Add lemon zest and juice and parsley and toss to combine. Serve immediately, with crusty bread.
Drink Pairings