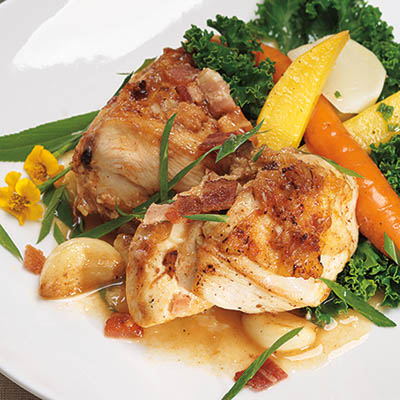 Ingredients
Serves 6
3 lb (1.5 kg) chicken pieces, bone-in or boned and skinned
salt and freshly ground black pepper
2 thick strips bacon, diced
1 tbsp (15 ml) olive oil (optional)
½ cup (125 ml) dry vermouth
½ cup (125 ml) dry white wine
½ cup (125 ml) chicken stock
1 tbsp (15 ml) tomato paste
2 tbsp (30 ml) slivered fresh tarragon leaves
assorted roasted vegetables (optional)
Instructions
Separate chicken legs at joints. If breasts are large, cut diagonally across each to make 2 portions. Remove skin if desired. Season with salt and freshly ground black pepper and set aside.
Preheat oven to 350F (180C).In a large, deep, heavy-bottomed frying pan, cook bacon over medium-high heat until crisp and lightly golden. Remove to a paper towel-lined plate using a slotted spoon and set aside. If needed, add oil to bacon drippings in pan. When hot, add chicken pieces, a few at a time, careful not crowd pan. Cook pieces in hot oil, turning once, until golden brown, 15 minutes. Transfer to a 12 cup (3 L) roasting pan as they are done, arranging pieces in a single layer.
Add garlic cloves to oil remaining in pan and cook, stirring occasionally, until browned in spots, about 5 minutes. Add vermouth to pan and deglaze, scraping bottom of pan. Cook over medium heat for 2 minutes or until slightly reduced. Add wine and stock and bring to a boil. Then remove pan from heat.
Remove half the garlic from pan using a slotted spoon and scatter over browned chicken. In a bowl, mash remaining garlic cloves, or finely chop and return to stock with tomato paste. Stir to blend and pour mixture over chicken and bake uncovered until chicken is tender and meat registers 165 F (75 C) on a meat thermometer, about 35 minutes. Add salt and pepper to taste. Sprinkle with fresh tarragon and cooked bacon.
For a thicker sauce, remove chicken to a separate dish and boil pan juices down in a saucepan until thickened as desired. Add salt and pepper to taste. Pour over chicken pieces and sprinkle with fresh tarragon and cooked bacon. Serve immediately with roasted vegetables on the side, if desired.
Drink Pairings