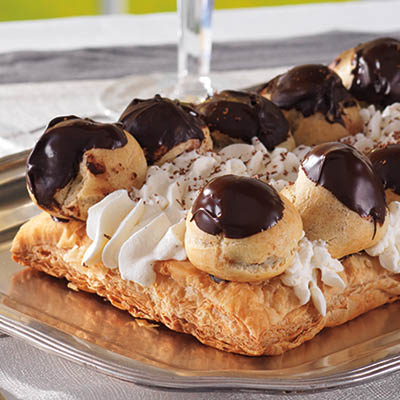 Ingredients
Serves 6
¼ x Basic Choux Pastry (make ahead, see BASIC CHOUX PASTRY RECIPE)
1½ cups (325 ml) whole milk
1 tsp (5 ml) vanilla bean paste
½ cup (125 ml) granulated sugar
2 tbsp (30 ml) all-purpose flour
2 tbsp (30 ml) cornstarch
1 tbsp (15 ml) melted chocolate
1 tbsp (15 ml) instant espresso powder, diluted in 1 tsp (5 ml) hot water and cooled
½ x 14 oz (398 g) package frozen puff pastry, thawed
4 oz (125 g) dark chocolate, divided
1 cup (250 ml) cold whipping cream
¼ cup (60 ml) icing sugar
1 tbsp (15 ml) cacao liqueur
Instructions
Prepare BASIC CHOUX PASTRY as per Master Recipe. You will only need about ¼ of the recipe. Once puffs have cooled, make a small incision in bottom of each.
Prepare MOCHA PASTRY CREAM: In a medium-sized saucepan, combine milk and vanilla and bring to a simmer, stirring occasionally.
Meanwhile, in medium-sized bowl, beat sugar, flour, cornstarch and yolks on high speed until thick and pale yellow, about 2 minutes.
Gradually pour about 1/3 of hot milk into egg mixture, stirring to combine.
Pour egg mixture into remaining milk in saucepan and cook, whisking constantly over low to medium heat until custard thickens and begins to bubble, about 4 minutes. Continue to cook, whisking for 1 minute. Remove from heat, add melted chocolate and coffee and stir until well combined.
Pour custard into a clean bowl, press a piece of plastic wrap or buttered parchment paper onto surface and cool to room temperature before refrigerating.
Preheat oven to 400 F (200 C).
To make base of cake, roll out thawed sheet of puff pastry to a thickness of ⅛-in (3 mm). Cut a rectangle 10 x 6-in (25 x 15 cm) and place on parchment paperlined baking sheet. Bake for 20 minutes or until puffed and golden. Remove from oven and cool completely.
Add Mocha Pastry Cream to a pastry bag fitted with a round tip (Wilton 71). Insert tip into each puff and fill with cream. Set aside.
Pipe any remaining pastry cream over middle of puff pastry rectangle.
Reserving 1 tbsp (15 ml) of solid chocolate, melt the rest in double boiler or microwave. Be careful not to burn. When fully melted, dip top of choux pastry balls in chocolate and set aside to cool. Once cooled arrange in a line along each long edge of puff pastry.
In a bowl, whip cream until soft peaks form. Then add icing sugar, 1 tbsp (15 ml) at a time, and whip until stiff peaks form. Stir in cacao liqueur. Fit a pastry bag with a star tip Wilton 1M1 or Wilton 2D1. Fill bag with whipped cream and fill middle of cake, between each row of choux.
Grate some of the reserved solid chocolate over whipped cream.
Refrigerate cake until ready to serve.
Drink Pairings