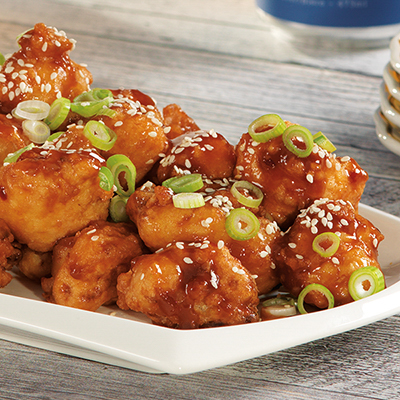 GENERAL TAO CAULIFLOWER BITES
Ingredients
Serves 8
1 tbsp (15 ml) sesame oil
1 tbsp (15 ml) finely grated ginger
1 tbsp (15 ml) Sambal Oelek chili paste
¼ cup (60 ml) granulated sugar
⅓ cup (75 ml) unseasoned rice vinegar
½ cup (125 ml) low-sodium soy sauce
½ cup (125 ml) vegetable stock
2 tbsp (30 ml) tomato paste
⅔ cups + 2 tbsp (150 ml + 30 ml) cornstarch, divided
1 cup (250 ml) all-purpose flour
1½ tsp (7.5 ml) baking powder
4 large eggs, lightly whisked
¾ cup (175 ml) IPA beer, plus extra if needed
1 very large head cauliflower, trimmed and cut into small florets
vegetable oil, for frying
1 tbsp (15 ml) toasted sesame seeds, for garnish
1 green onion, sliced, for garnish
Instructions
In a small saucepan over mediumlow heat, heat sesame oil. Add garlic and ginger and cook, stirring constantly, until fragrant, about 1 minute. Whisk in Sambal, sugar, vinegar, soy sauce, stock and tomato paste. In a small bowl, stir together water and 2 tbsp (30 ml) cornstarch. Whisk into sauce and bring to a simmer. Stir occasionally until thickened, about 8 minutes.
In a large bowl, whisk together remaining ⅔ cups (150 ml) cornstarch, flour, baking powder and salt. Whisk in eggs and beer to form a batter. If batter is very thick, adjust consistency with more beer. Batter should coat cauliflower but not be pasty.
Pour enough oil into a heavybottomed skillet or cast iron pan so it will cover cauliflower about half way. Heat over medium heat. Drop a small bit of batter in oil to test, if it rises to top and bubbles, oil is ready. In batches, dip cauliflower florets into batter and let excess drip off before gently setting in hot oil. Fry, turning several times, until golden brown and crunchy, about 4 to 6 minutes total. Remove and set on a wire cooling rack with paper towels underneath. Repeat with remaining cauliflower.
In a large bowl, toss fried cauliflower bites with prepared sauce, to taste. Transfer to a serving platter and garnish with sesame seeds and green onion. Any extra sauce can be served alongside for dipping, if desired.
Drink Pairings