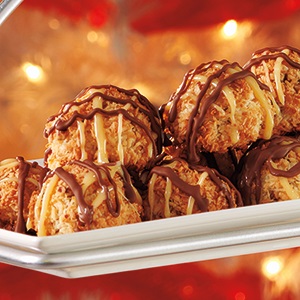 GERMAN CHOCOLATE MACAROONS WITH DULCE DE LECHE
Ingredients
Serves 38 Macaroons
1 x 300 ml can sweetened condensed milk
5 ⅓ cups (1.3 L) unsweetened shredded coconut
¾ cup (175 ml) granulated sugar
¾ cup (175 ml) finely chopped pecans
⅓ cup (75 ml) all-purpose flour
4 oz (125 g) milk chocolate
Instructions
To make dulce de leche, place condensed milk in a double boiler and cook over medium heat for about 45 minutes, stirring occasionally, until thickened and golden. Remove from heat and cover to keep warm. Can be made ahead, refrigerated in a tightly covered container for up to a week. Simply reheat to soften.
Preheat oven to 350 F (180 C). Line a baking sheet with parchment paper and set aside.
In a large bowl, combine coconut, sugar, pecans, flour and salt. Stir to evenly mix. Beat egg whites in a bowl with an electric hand-held mixer just until foamy. Add to coconut mixture and stir in with a fork until well mixed.
Using a large, round tablespoon or small ice cream scoop, roll into balls and gently press onto prepared baking sheet about 1-in (2.5 cm) apart. Bake in preheated oven for 20 minutes, or just until tops turn golden. Remove baking sheet with macaroons to a rack to cool.
Melt chocolate in a small bowl over a saucepan with simmering water just until almost melted. Remove bowl with chocolate and stir to completely melt. Dip a fork into chocolate and drizzle in a zigzag fashion over cooled macaroons.
Repeat with dulce de leche, drizzling in opposite direction in a zigzag. Cool macaroons until toppings have firmed. Store in a single layer in a container with a tight-fitting lid and refrigerate until ready to serve. Best eaten within a couple of days.
Drink Pairings