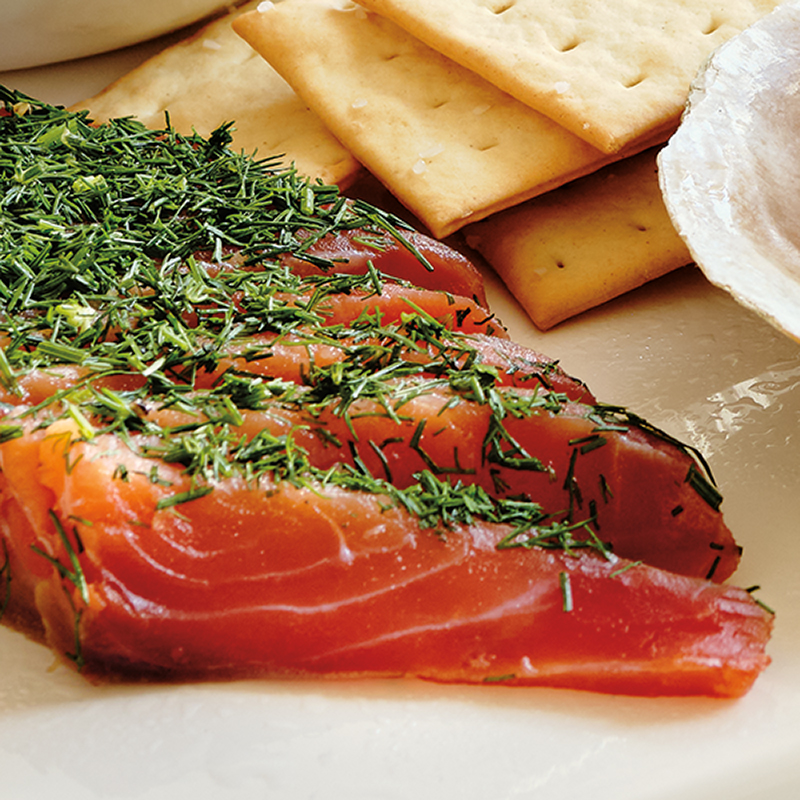 Ingredients
Serves 4 to 6
1 cup (250 ml) kosher salt
¼ cup (60 ml) crushed black peppercorns
6 dried juniper berries, crushed
1 lb (454 g) sashimi-grade sockeye salmon, thicker belly portion, skin on, scales off, bones removed
6 sprigs fresh dill, chopped, to serve
Instructions
To make curing mix, in a medium bowl, combine salt, sugar, peppercorns, juniper berries and lemon zest. Spread half of curing mix in centre of a plastic wrap-lined baking sheet; curing mix should be about the same size as fish.
Rub fish with gin. Place fish, skin-side down, on curing mix and cover with remaining curing mix. Bring edges of plastic wrap up and over salmon and wrap tightly. Place another baking sheet on top of salmon and weigh it down with several large cans or a heavy saucepan. Refrigerate for 24 hours, flipping fish halfway through.
Remove salmon from plastic wrap and rinse off all curing mix. Fish should have a firm texture and a darker colour throughout. Pat dry well with paper towel. Slice flesh from skin, to serve, and top with dill. Any extra salmon can be wrapped tightly and kept in refrigerator for up to 3 days, or frozen for up to 1 month.
Drink Pairings