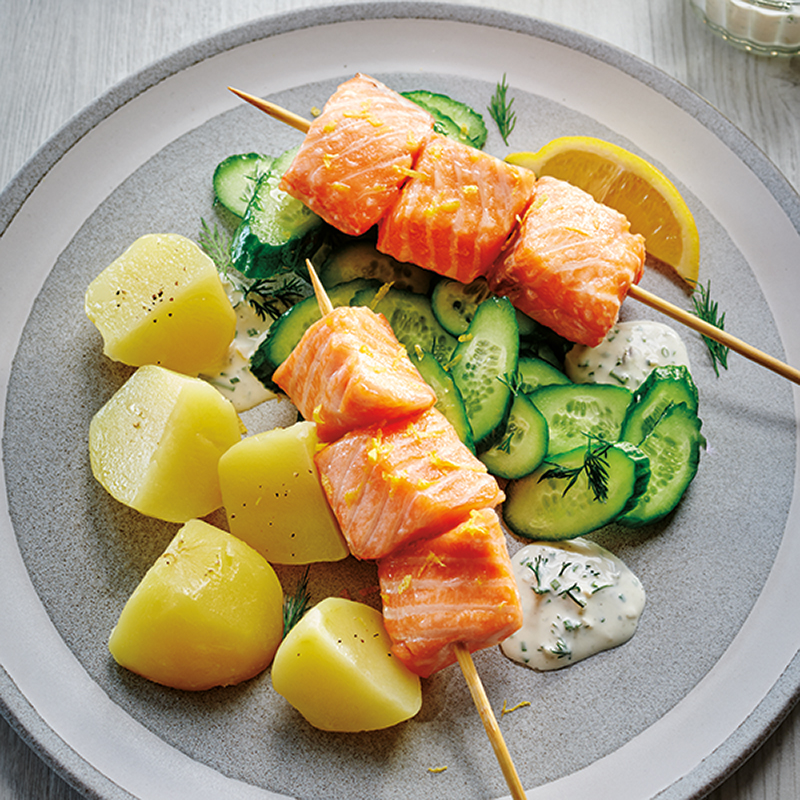 GIN-CURED SALMON SKEWERS SERVED WITH BOILED POTATOES, CUCUMBER SALAD AND DILL SAUCE
Ingredients
Serves 4
24 oz (680 g) wild salmon
1 tbsp (15 ml) kosher salt, plus extra to cook potatoes
4 sprigs fresh dill, divided
1 tbsp (15 ml) granulated sugar
1 tbsp (15 ml) + 2 tsp (10 ml) extra-virgin olive oil, divided 8 wooden skewers
8 small yellow potatoes, peeled and halved
1 tbsp (15 ml) salted butter
¾ cup (175 ml) sour cream
1 tbsp (15 ml) minced red onion
2 tsp (10 ml) white wine vinegar
Instructions
Preheat oven to 300 F (150 C). Cut salmon into 12 even cubes and toss together with 1 tbsp (15 ml) salt, gin, 1 sprig dill, sugar and caraway seeds. Place in container with a lid and refrigerate for 15 minutes, to cure. Remove from refrigerator, rinse well and dry thoroughly with a paper towel. Toss with 1 tbsp (15 ml) olive oil, then skewer 3 pieces of salmon per skewer.
Cook potatoes in simmering salted water just until tender, about 10 to 15 minutes, depending on size of potatoes. Drain and toss with butter.
Place salmon skewers on a parchment-lined baking sheet and bake until salmon is cooked through and flakes easily, about 10 to 12 minutes.
While potatoes and salmon are cooking, the make dill sauce. To make sauce, chop remaining dill leaves and combine in a small bowl with sour cream, red onion and salt and pepper to taste. Set aside.
Slice cucumbers on the bias and toss with remaining olive oil, vinegar and salt and pepper to taste.
Serve 2 salmon skewers per person along with cucumber salad, potatoes and dill sauce. Garnish cucumbers with remaining dill.
Drink Pairings