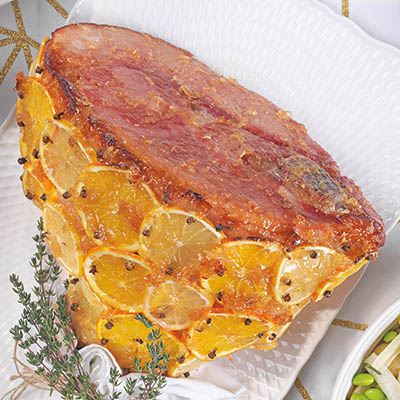 GINGER MARMALADE GLAZED HAM
Ingredients
Serves 10 to 12
1½ cups (375 ml) ginger marmalade
⅓ cup (75 ml) grated peeled ginger
⅓ cup (75 ml) maple syrup
2 tbsp (30 ml) hot prepared mustard
½ cup (125 ml) firmly packed light brown sug
1½ cups (375 ml) ginger ale
¼ cup (60 ml) finely chopped crystalized ginger
8 to 10 lb (3.5 to 4.5 kg) bone-in baked ham
1 lemon, unpeeled, thinly sliced
1 small orange, unpeeled, thinly sliced 15 to 30 whole cloves
2 tbsp (30 ml) canola oil
2 tbsp (30 ml) brown mustard seeds
3 Granny Smith apples, peeled, cored, cut into ½-in (1.25 cm) dice
¼ lb (125 g) dried apricots, cut into ½-in (1.25 cm) dice
¼ lb (125 g) dried cherries, quartered
¼ lb (125 g) dried peaches, cut into ½-in (1.25 cm) pieces
¼ cup (60 ml) minced crystallized ginger
¼ cup (60 ml) white wine vinegar
½ cup (125 ml) dry white wine
2 tbsp (30 ml) Dijon mustard
1 tbsp (15 ml) dry hot mustard
Instructions
In a small saucepan, mix together marmalade, grated ginger, maple syrup, mustard, brown sugar and ginger ale. Bring to a boil over high heat, stirring until well mixed. Reduce heat to medium, simmer, uncovered, for 10 to 15 minutes, or until reduced by half and syrupy. Mix in candied ginger. Keep warm.
Place oven shelf in lowest position. Preheat oven to 350 F (180 C). Line a roasting pan with foil.
If ham rind is still attached, using a sharp knife, cut a zig-zag pattern through ham rind about 4 to 5-in (10 to 12 cm) from shank end of leg. Remove rind from ham by sliding hand between rind and fat cap layer. Discard rind. Alternatively, place whole ham in a 350 F (180 C) oven for 20 minutes until rind easily pulls off with a minor amount of cutting, leaving fat cap intact.
To score ham: run a chef 's knife diagonally across fat on surface in 1-in (2.5 cm) cuts. Turn ham and cut diagonally across it in opposite direction, creating a cross-hatch or diamond-shaped pattern over surface.
Brush half of the marmalade mixture over the fat cap. Use double pointed toothpicks (cut in half ) to secure, arranging slightly overlapping lemon and orange slices over the ham. Stud with cloves. Place ham in prepared roasting pan. Carefully brush glaze evenly over the lemon and orange slices.
Bake, basting occasionally with pan juices, for 55 to 60 minutes, or until golden brown. Let ham stand for 5 minutes before carving. Serve with Classic Fruit Mostarda.
To make CLASSIC FRUIT MOSTARDA: Heat a medium saucepan over medium-high heat, add canola oil, shallot and mustard seeds. When seeds begin to pop, mix in apples, apricots, cherries, peaches, ginger, sugar, white wine vinegar, water, wine and bay leaves. Bring to a boil, reduce heat to medium, cover and cook until fruit softens, about 15 to 20 minutes, and most liquid has reduced. Stir in Dijon, dry mustard and cayenne. Season to taste. Simmer until mixture is jam-like consistency. Remove bay leaves. Serve warm or at room temperature. Can be kept in an airtight container refrigerated for up to 1 month. Makes about 5½ cups (1.3 L).
Drink Pairings