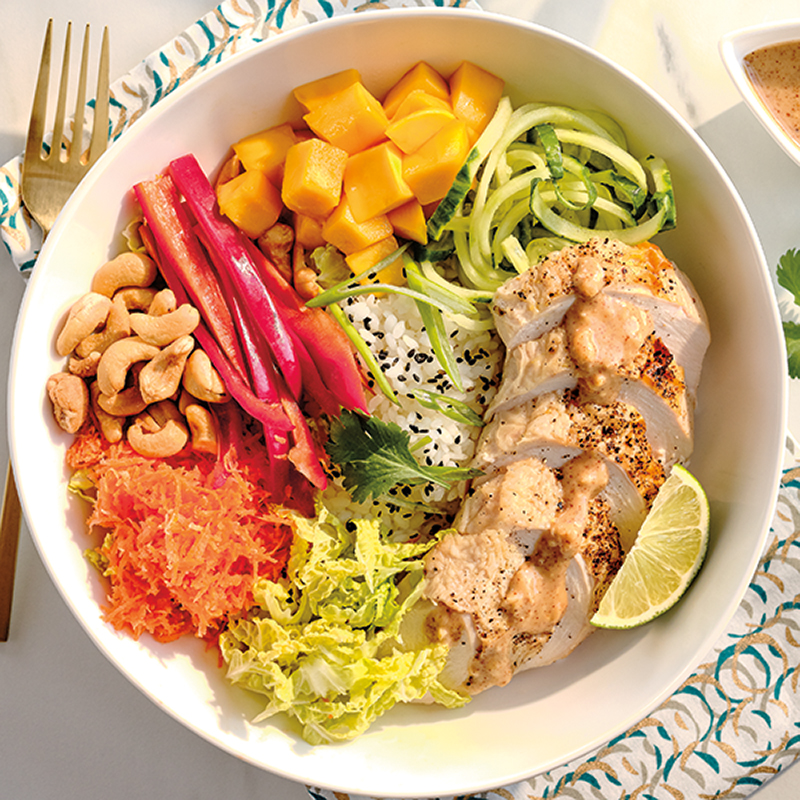 Ginger Miso Chicken Bowls
Ingredients
Serves 2
2 chicken breasts, boneless, skin-on*
salt and pepper, to taste
1 tsp (5 ml) grated ginger
2 tsp (10 ml) maple syrup
2 tbsp (30 ml) almond butter
½ tsp (2.5 ml) sesame oil
2 cups (500 ml) cooked sushi rice
1 cup (250 ml) grated carrot
1 cup (250 ml) shredded Napa cabbage
1 cup (250 ml) diced mango
¼ cup (60 ml) toasted chopped cashews
1 green onion, thinly sliced, for garnish
¼ cup (60 ml) fresh cilantro leaves, for garnish
1 tbsp (15 ml) sesame seeds, for garnish
Instructions
Preheat oven to 375 F (190 C).
Place chicken skin-side up on a lined baking sheet. Season with salt and pepper and bake for 10 to 15 minutes, or until it reaches an internal temperature of 165 F (74 C). Slice into medallions and set aside.
To make dressing, in a small bowl, mix together garlic, miso, soy sauce, ginger, maple syrup, lime juice, almond butter, sesame oil and water, and set aside.
Divide rice between 2 bowls and top with carrot, pepper, cabbage, mango and cashews. Add chicken and drizzle everything with dressing. Garnish with green onion, cilantro and sesame seeds and serve with lime wedges.
Drink Pairings