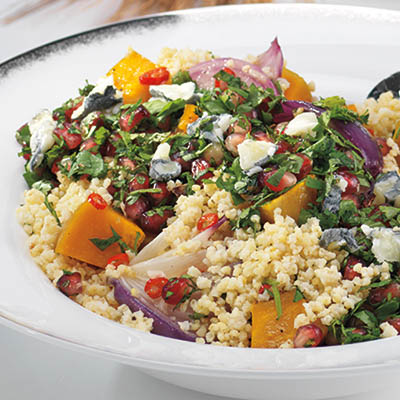 GINGER ROASTED PUMPKIN AND MILLET SALAD
Ingredients
Serves 6
2 lbs (1 kg) pumpkin or butternut squash, peeled and cut into 1-in (2.5 cm) pieces
1 medium-sized red onion, cut into 16 wedges
1 tbsp (15 ml) peeled, freshly grated ginger root
2 bird's eye chilies, thinly sliced into rounds
2 tbsp (30 ml) grapeseed oil
1 tbsp (15 ml) maple syrup
salt and pepper, to taste
3 tbsp (45 ml) extra-virgin olive oil, divided
2 tbsp (30 ml) lime juice
1 cup (250 ml) each roughly chopped fresh mint leaves and fresh cilantro
½ cup (125 ml) pomegranate seeds
4 oz (125 ml) goat's cheese, crumbled
Instructions
Preheat oven to 400 F (200 C). Place a rimmed baking sheet in oven while preheating.
In a large bowl, toss together pumpkin pieces with red onion, ginger, chilies, garlic, grapeseed oil, maple syrup and a good pinch each of salt and pepper. Tumble onto hot baking sheet and bake, stirring once or twice until pumpkin is tender and lightly browned, about 25 to 30 minutes. Remove from oven and set aside to cool.
Meanwhile, place millet into a large dry saucepan and toast, stirring often, over medium heat until grains start to pop and become fragrant, about 4 to 5 minutes. Stir water and a pinch of salt into toasted millet. Increase heat to high and bring mixture to a boil. Once boiling, lower heat to low, stir in 1 tbsp (15 ml) olive oil and cover saucepan. Simmer for 15 minutes. Avoid lifting lid or stirring. Remove saucepan from heat and rest, covered, for 10 minutes to fully absorb water. Fluff with a fork and set aside, partially covered, to keep warm.
Scrape pumpkin mixture and browned bits into a large bowl. Add millet and toss together. Add remaining 2 tbsp (30 ml) olive oil, lime juice, herbs and pomegranate seeds, folding in gently to combine. Season to taste with more salt and pepper. Transfer to a serving bowl and scatter with goat's cheese. Serve immediately while warm.
Drink Pairings