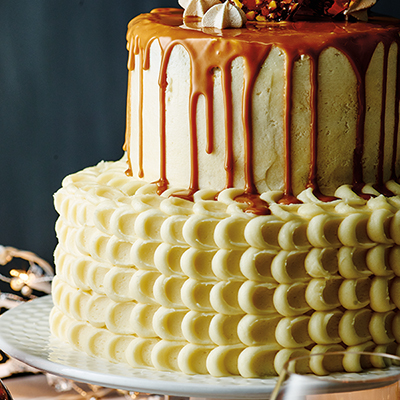 Ingredients
Serves 18 to 20
24 oz (750 g) flour, plus extra for dusting
1 cup (250 ml) cocoa powder
6 tbsp (90 ml) ground ginger
1 tbsp (15 ml) ground cinnamon
¾ tsp (4 ml) ground cloves
¼ tsp (1 ml) cayenne powder
1 tbsp (15 ml) + 2¼ tsp (11 ml) baking powder, divided
2 cups (500 ml) brewed coffee, cooled
½ cup (125 ml) buttermilk
¾ cup (175 ml) fancy molasses
2 cups (500 ml) vegetable oil
9 large eggs, lightly beaten
3 tbsp (45 ml) grated ginger
6 tbsp (90 ml) cornstarch
4½ cups (1.125 L) milk, divided
1½ tbsp (22 ml) vanilla extract
BAKED DULCE DE LECHE (CARAMEL)
1 x 9¾ oz (300 ml) can condensed milk
1½ cups (375 ml) sliced almonds, lightly toasted
Instructions
To make CAKE, preheat oven to 350 C (180 F). Lightly grease and dust some flour over two 7-in (18 cm) and two 9-in (23 cm) round cake pans. Line bottom of pans with parchment paper.
In a large bowl, sift together flour, cocoa powder, salt, spices and 1 tbsp (15 ml) baking powder.
In another large bowl, whisk together coffee, buttermilk, molasses, 2¼ tsp (11 ml) baking powder, sugar and oil. Add eggs and ginger. Beat until well combined.
Combine wet and dry ingredients and pour 1¼ cups (310 ml) batter into each of the smaller cake pans and 2 cups (500 ml) batter into the larger cake pans.
Bake for 25 to 30 minutes or until a knife inserted in centre of cakes come out clean. Cool completely on a wire rack. Refrigerate to chill before assembling.
To make ERMINE FROSTING, in a bowl, whisk together sugar, flour, cornstarch and salt. Gradually add 2 cups (500 ml) milk and whisk constantly to form paste. Then add remaining milk and whisk together until smooth.
In a medium-sized saucepan, add frosting mixture and cook over medium heat, whisking constantly until it boils and forms a paste-like custard. Remove from heat and set aside to cool completely.
In a bowl, whisk together butter and vanilla until light and fluffy. Add cooled custard mixture and whisk on high speed until frosting is smooth.
To make DULCE DE LECHE, preheat oven to 425 F (220 C) and adjust oven rack to centre position. Place wire rack in a deep Dutch oven or roasting pan.
Pour condensed milk into a heatproof bowl. Cover and seal with aluminium foil. Place over wire rack in Dutch oven or roasting pan.
Pour boiling water into pan until it reaches halfway up sides of container holding condensed milk.
Bake for 1 hour, then check water level. Top up as needed with boiling water to reach same level as before. Bake for another hour.
Remove from oven and carefully lift container with caramel onto tea towel. Poke holes on surface of foil with fork. Allow to cool completely. Remove foil and stir well. Can be stored in refrigerator for up to 2 weeks.
To make PRALINE SHARDS, lightly toast almond flakes in a preheated 350 F (180 C) oven for 5 to 7 minutes. Remove from oven and cool completely
Lightly grease and line bottom of baking sheet with parchment paper. Set aside.
Place sugar and salt in a heavy-bottomed medium saucepan. Pour water evenly over sugar. Do not stir. Heat over medium-low heat until sugar has melted.
Increase heat to medium and allow mixture to boil. Do not stir. If sugar crystals form along sides of saucepan, use wet pastry brush to wipe them away.
Do not leave boiling mixture unattended as it can burn very quickly. Once sugar mixture starts turning into deep amber from gold colour, remove from heat. Add butter and toasted almonds. Stir together and pour over prepared baking sheet. Do not touch as mixture will be extremely hot.
Using an offset spatula, quickly spread and even out surface of mixture. Allow to cool completely, about 1 hour.
When ready to use, break the praline into pieces and shards. Can be stored in an airtight container for up to 2 weeks. Do not refrigerate.
To assemble well-chilled cakes, slice cakes in half, horizontally. Fill large piping bag, without nozzle, with frosting.
Place one half of large cake on serving platter. Pipe 1 cup (250 ml) Ermine Frosting over surface. Using an offset spatula, smooth frosting evenly over surface and cover with other half of cake. Continue this step with other large cake to form one 4-layer cake. Apply even, but thin layer of frosting on entire surface of cake. This is the crumb coat.
Place one layer of smaller cake over 8-in (20 cm) cake base. Repeat with layering as above using about ⅔ cup (150 ml) frosting between layers. Frost with crumb coat and refrigerate both cakes for 1 hour.
Remove large cake from refrigerator and pipe any desired pattern over surface of cake. Return to refrigerator.
Remove smaller cake from refrigerator and evenly frost entire surface. Return to refrigerator.
When ready to serve, cut 8 to 10 thick wooden skewers to height of large cake. Insert into centre of large cake to cover roughly 6-in (15 cm) diameter. This will offer support to top cake tier. Place smaller cake over centre of larger cake.
Pipe Dulce de Leche over surface of top tier. Using spatula, spread caramel and allow it to flow over edges. Decorate top of cake with praline.
Drink Pairings