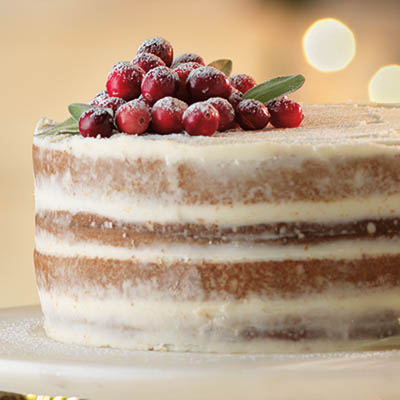 GINGERBREAD CAKE WITH EGGNOG ICING
Ingredients
Serves 6 to 8
⅓ cup (75 ml) brown rice syrup or golden corn syrup
¾ cup (175 ml) lightly packed brown sugar
3½ cups (875 ml) all-purpose flour
2 tsp (10 ml) baking soda
2 tsp (10 ml) ground ginger
2 tsp + ¼ tsp (10 ml + 1 ml) ground cinnamon, divided
¼ tsp + ¼ tsp (1 ml + 1 ml) ground nutmeg, divided
1 pinch + ½ tsp (2 ml) salt, divided
1 tsp (5 ml) vanilla extract, or seeds scraped from 1 vanilla pod
1 cup (250 ml) butter, at room temperature
4 cups (1 kg) icing sugar, plus extra for dusting
1 cup (250 ml) cranberries
Instructions
Preheat oven to 350 F (180 C). Grease and line two 8-in (20 cm) round cake pans with parchment paper and set aside.
In a bowl over simmering water, melt molasses, syrup, sugar and butter. Set aside and cool.
In an electric mixer, mix eggs and milk. Add molasses mixture and mix until combined.
Sift together flour, baking soda, ginger, 2 tsp (10 ml) cinnamon, ¼ tsp (1 ml) nutmeg and pinch of salt over wet mixture and fold in until just combined. Divide batter evenly between cake pans. Bake for 25 to 30 minutes, or until a cake tester inserted comes out clean. Set aside and cool while making eggnog icing.
In a mixing bowl with an electric mixer, whip orange zest, lemon zest, vanilla extract, remaining salt, ground nutmeg and ground cinnamon, eggnog and butter together until fluffy. Add icing sugar and whip until fluffy and combined.
To assemble, cut cooled cakes in half horizontally to make four cakes. Layer cakes with icing, then thinly spread icing around outside of cake. Decorate with cranberries and dust with icing sugar.
Drink Pairings