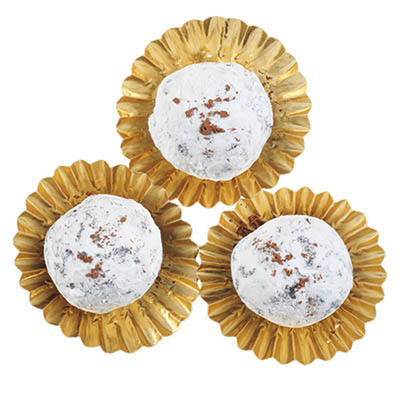 Ingredients
Serves about 25 rum balls
¼ cup (60 ml) unsalted butter
¼ cup (60 ml) dark brown sugar
¼ cup (60 ml) semi-sweet chocolate chips
¾ cup (175 ml) all-purpose flour
¼ cup (60 ml) cocoa powder
1 tsp (5 ml) ground ginger
½ tsp (2 ml) ground cinnamon
¼ tsp (1 ml) ground nutmeg
2 tbsp (30 ml) finely chopped crystalized ginger
Instructions
Preheat oven to 350 F (180 C). Grease an 8-inch (20 cm) square baking pan and set aside. In a medium saucepan, stir together butter, molasses, brown sugar and chocolate over medium heat. Continue stirring until butter and chocolate have melted and blended. Remove from heat and set aside to cool for 20 minutes.
In a bowl, whisk together remaining dry ingredients and crystalized ginger. Set aside.
Stir egg into chocolate mixture. Add flour mixture and stir until just combined. Pour into baking pan. Bake until just starting to pull away from the sides, about 20 minutes, and cool to room temperature.
Crumble gingerbread into small chunks and place in a large bowl with rum. Stir until mixture starts to come together and form a ball. Roll dough into walnut-size balls before rolling in icing sugar to coat. Transfer to a parchmentlined baking sheet and refrigerate until firm, about 2 hours. Rum balls can be frozen in an airtight container for up to 1 month.
Drink Pairings