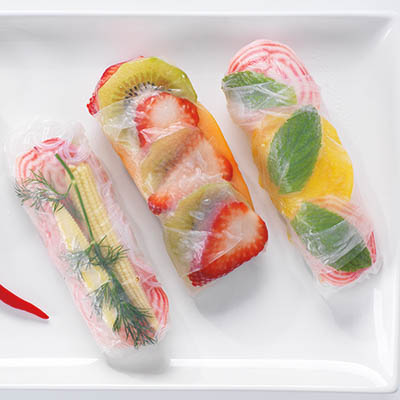 GINGERED SUMMER FRUIT COCKTAIL SALAD ROLLS
Ingredients
Serves 8 rolls
1 basket raspberries, about 40 to 48 berries
⅓ cup (75 ml) finely chopped crystal ginger
8 X 8-inch (20 cm) rice-paper rounds, plus more in case of tearing
Instructions
Peel melon and mango and cut into slices, then matchstick julienne. Cut and core apple. Slice and cut into matchstick julienne. Squeeze lemon juice over apple and toss well to prevent apple from browning. Hull and slice strawberries into thin slices. Peel kiwi and thinly slice.
Place a clean tea towel or a double thickness of paper towel on a work surface. Fill a shallow baking pan with warm water. Soak a rice paper round in warm water until pliable, about 5 to 10 seconds. Carefully transfer to tea towel or paper towel lined work surface.
Place a few kiwi slices and strawberries (cut side up) on the middle bottom third of the round. Top with a few cantaloupe, mango and apple slices. Add 5 to 6 raspberries in a horizontal line, then top with a few mint leaves and some chopped crystalized ginger. Fold bottom of rice paper over filling and begin rolling up tightly, stopping at halfway point. Arrange a few more mint leaves, then fold in ends and continue rolling.
Transfer roll, seam side down, to a plate and cover with dampened paper towels. Repeat making 7 more rolls in the same manner.
Drink Pairings