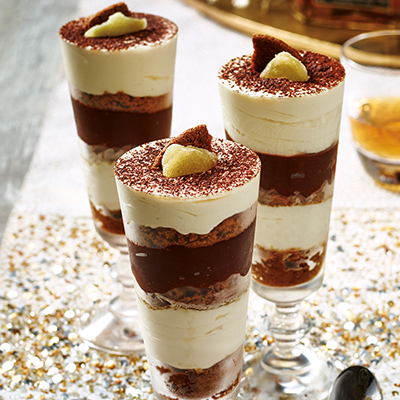 Ingredients
Serves 6 to 8
2 cups (500 ml) crumbled gingersnap cookies
4 cups (1 L) whipping cream
1 tbsp (15 ml) vanilla extract
1 package instant chocolate pudding
1 cup (250 ml) cold coffee
1 tsp (5 ml) cocoa powder, for garnish
candied ginger, for garnish
Instructions
Place 1 tbsp (15 ml) gingersnap crumbs in each of 6 to 8 tall parfait glasses. Pour 1 tsp (5 ml) Kahlúa over crumbs and set aside.
In a non-reactive mixing bowl, add whipping cream, sugar, vanilla and espresso. With an electric mixer, whip until stiff peaks form. Place in a large piping bag and set in refrigerator.
In a large mixing bowl, whisk together instant pudding mix, milk and coffee. Place into a piping bag and set in refrigerator for 10 minutes.
Pipe mixtures into each glass, alternating layers of pudding, cookie crumbs and whipped cream, finishing with a whipped cream layer. Garnish with a dusting of cocoa powder and a piece of candied ginger and refrigerate until ready to serve.
Drink Pairings