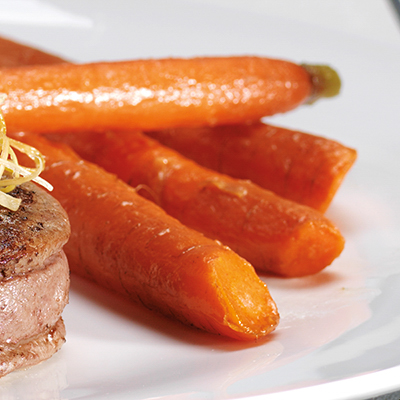 Ingredients
Serves 2
1 bunch small carrots, scrubbed and greens trimmed,
keeping ¼-in (0.5 cm) of stalk
½ shallot, finely chopped
1 cup (250 ml) chicken stock
Instructions
In a medium to large frying pan (just big enough to fit carrots), add all ingredients. Add just enough water to cover carrots (this might not be needed if stock covers carrots completely). Bring liquid to a boil, then reduce heat to medium. Continue cooking until carrots are tender and liquid has reduced to a glaze.
Shake pan when liquid is almost reduced, to cover carrots with glaze. If carrots are cooked and there is still a lot of liquid, remove carrots and increase heat to reduce liquid. Return carrots once liquid has reduced. Place glazed carrots onto serving plate and serve warm.
Drink Pairings