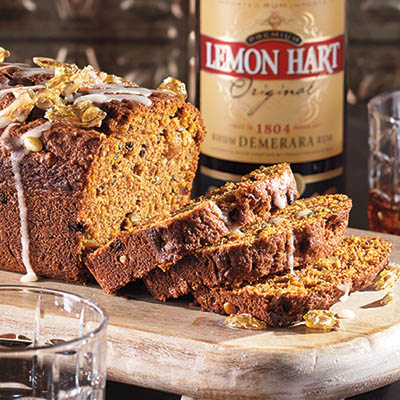 GLAZED PUMPKIN SEED BREAD WITH BRITTLE GARNISH
Ingredients
Serves 2 loaves
1½ cups (375 ml) granulated sugar
1¼ cups (300 ml) coconut oil, melted, cooled
14 oz (398 ml) can unseasoned pumpkin purée
3 cups (750 ml) whole wheat flour
2 tsp (10 ml) each baking powder, baking soda and cinnamon
½ cup (125 ml) unseasoned toasted pumpkin seeds
¼ cup (60 ml) each flaxseed, unseasoned toasted sunflower seeds and golden seedless raisins
2 cups (500 ml) icing sugar, sifted
2 tbsp (30 ml) orange juice, strained
1 cup (250 ml) granulated sugar
¼ cup (60 ml) clear corn syrup
3 tbsp (45 ml) unseasoned toasted pumpkin seeds
3 tbsp (45 ml) unseasoned toasted sunflower seeds
Instructions
To make BREAD: Preheat oven to 350 F (180 C). Lightly grease two 8 x 4 x 2.5-in (20 x 10 x 6.5 cm) loaf pans. Set aside.
In a large bowl combine eggs, sugar, oil and pumpkin, whisk until blended. In another bowl, combine dry ingredients (except seeds, raisins and orange zest) and stir to mix. Fold in remaining ingredients. Divide among prepared loaf pans and bake in centre of preheated oven for 50 minutes to 1 hour, or until a cake tester inserted in centre comes out clean. Remove cakes to a cooling rack and cool for 5 minutes before turning out of pans and cooling completely.
Prepare ICING DRIZZLE and SEED BRITTLE: Add icing sugar to a large bowl and slowly stir in orange juice, adding just enough liquid to make icing pourable. Set aside.
To make SEED BRITTLE: Line a baking sheet with parchment paper and set aside. Mix sugar and corn syrup together in a heavy-bottomed, 8 cup (2 L) saucepan. Bring to a boil until sugar dissolves. Reduce heat to medium-high or medium, cooking at a slow boil until it turns a pale amber colour, 8 minutes. While boiling, wash down insides of saucepan using a pastry brush dipped in water. When amber colour is reached, immediately stir in seeds. Quickly pour out onto prepared baking sheet, tilting sheet to spread into thin layer. Use a metal spatula to evenly disperse seeds. Set aside and cool until hard.
When loaves have cooled, drizzle with icing. Break brittle into pieces and scatter over top. Cut loaves into slices and serve.
Drink Pairings