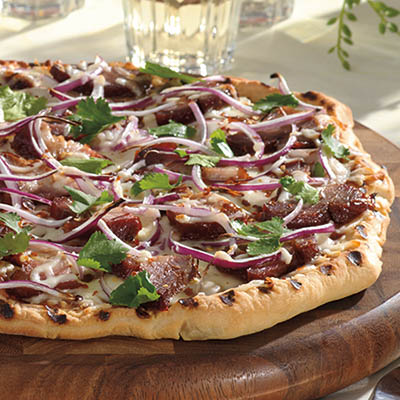 GLUTEN-FREE FLATBREAD WITH ORANGE-HOISIN AND CHINESE BARBECUED PORK
Ingredients
Serves 4
1¾ cups (425 ml) Gluten-Free Flour Blend (such as Next-Jen or Robin Hood)
1 x 7 g package instant or quick rise yeast
1 tsp (5 ml) granulated sugar
1 tsp (5 ml) xanthan gum (available at health food or specialty stores)
1 tsp (5 ml) garlic powder (optional)
1¼ cups (290 ml) warm homogenized milk (105-120 F (40 to 45 C)
2 tbsp (30 ml) olive oil, plus extra
¼ cup (60 ml) hoisin sauce
1 tbsp (15 ml) orange zest
2 tbsp (30 ml) orange juice
1½ cups (375 ml) shredded Monterey Jack cheese
½ medium-sized red onion, thinly sliced
¼ lb (125 g) Chinese barbecued pork, thinly sliced
small handful cilantro, coarsely chopped
crushed red pepper flakes, optional
Instructions
Preheat barbecue to 450 F (230 C).
Line a baking sheet with parchment paper and lightly dust with some gluten-free flour.
Whisk together flour, yeast, salt, sugar, xanthan gum and garlic powder, if using, in large bowl of an electric mixer. In a measuring cup, mix together warm milk and olive oil. With mixer on low speed, slowly drizzle in milk mixture. Using a dough hook, beat on medium-high speed for 4 to 5 minutes. If too sticky, add a little more gluten-free flour.
Place dough onto prepared dusted parchment paper-lined baking sheet. Cover with another piece of parchment paper and roll out until about ⅜-in (.1 cm) thick. Transfer dough to a floured flatbread baking sheet. Once grill is 450 F (230 C), brush the grill using a pad of paper towels soaked in olive oil. Slide theflatbread onto greased grill. Close cover and bake for 2 minutes, or until there are grill marks on underside of flatbread and the top has started to bubble.
Remove flatbread from grill with tongs and flip onto pan so the grill marks are facing up.
In a small mixing bowl, combine hoisin sauce, orange zest and juice. Brush top surface of crust with hoisin mixture and sprinkle with half the cheese. Scatter top with red onion and barbecued pork slices, then finish with remaining cheese. Return pan with flatbread to barbecue.
Close barbecue and bake flatbread for 2 to 3 minutes, or until pizza is browned underneath and cheese is bubbling. Remove and allow to rest 5 minutes. Garnish with cilantro and crushed red pepper flakes.
Drink Pairings