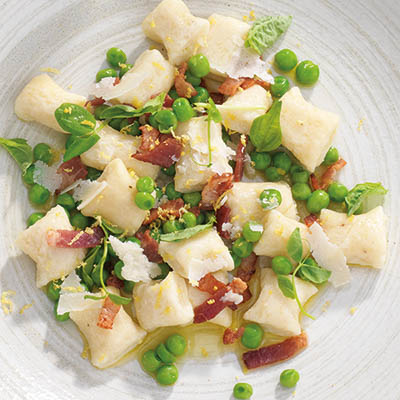 GNOCCHI WITH PEAS, PANCETTA AND LEMON
Ingredients
Serves 4
1 x ½-in (1.25 cm) slice Pancetta, cut into cubes
½ cup (125 ml) extra-virgin olive oil, divided
1 cup (250 ml) frozen petite green peas
1 lemon, zest and juice, divided
salt and pepper, to taste
¼ cup (60 ml) Parmigiano Reggiano, grated, plus extra for garnish
basil leaves, for garnish
pea shoots tips, for garnish
2 cups (500 ml) Ricotta cheese
½ cup (125 ml) grated Parmigiano Reggiano cheese
1¼ cups (310 ml) all-purpose flour, plus extra
Instructions
Bring a large pot of water to a boil. Add enough salt to water so it's as salty as seawater.
While water is heating, place a large sauté pan over medium heat. Add pancetta and cook until fat has rendered and pancetta is crisp. Drain and discard fat. Add half the olive oil and garlic to pan and reduce heat to low. Heat just until garlic is fragrant then remove pan from heat.
Once water is boiling, add gnocchi, continue cooking until gnocchi floats to surface. Add peas to water and cook for 30 seconds. Reserve 3 tbsp (45 ml) of cooking water and add it to sauté pan. Drain gnocchi and peas and add to sauté pan along with lemon juice. Toss until gnocchi is coated with olive oil and everything is mixed. Season with salt and pepper.
Plate gnocchi individually or family style. Drizzle with remaining olive oil and sprinkle with Parmigiano Reggiano. Garnish with lemon zest, basil leaves and pea shoots.
To make RICOTTA GNOCCHI: In a bowl, whisk thoroughly together Ricotta, eggs, Parmigiano Reggiano, salt, pepper and nutmeg. Add flour and mix with a wooden spoon just until dough comes together in a ball, then cut into 4 pieces.
Place 1 piece of dough on a well-floured counter and roll into a ¾-in (2 cm) thick log. Cut log into 1-in (2.5 cm) pieces and place gnocchi on a floured sheet pan. Repeat with remaining dough.
Gnocchi can be cooked at this point, or frozen in a single layer, then bagged in a resealable freezer bag and kept in freezer for up to 1 month.
Drink Pairings