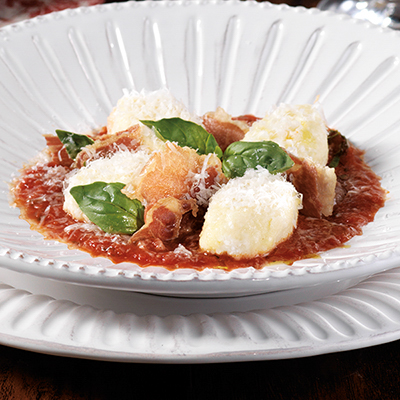 GNUDI WITH SPICY TOMATO SAUCE AND CRISPY PROSCIUTTO
Ingredients
Serves 4
2 cup (500 ml) ricotta cheese
½ cup (125 ml) grated Parmesan
½ cup (125 ml) all-purpose flour, plus extra for dusting
½ tsp (2.5 ml) each salt and pepper
½ cup (125 ml) semolina flour
Spicy Tomato Sauce, make ahead
Crispy Prosciutto, make ahead
basil and shaved Parmesan, for garnish
1 small yellow onion, diced
1 x 8 oz (227 g) can tomato sauce
1 tsp (5 ml) red pepper chili flakes, plus extra, to taste
1 tsp (5 ml) dried oregano
1 cup (250 ml) roughly chopped fresh basil leaves
1 tsp (5 ml) each, salt and pepper
Instructions
In a large mixing bowl, combine ricotta, Parmesan, all-purpose flour, egg and egg yolk. Add salt and pepper and mix until just combined. Mixture should be slightly wet but able to form a small ball.
Mix semolina flour with a handful of all-purpose flour on a flat baking sheet. Roll Gnudi mixture into 1-in (2.5 cm) balls and place on floured baking sheet. Lightly coat outside of Gnudi in flour mixture and let rest for 10 to 15 minutes in fridge.
Bring a large stock pot of salted water to boil. Gently place Gnudi into boiling water. Once Gnudi floats to surface they are ready, about 3 minutes.
Plate Gnudi with Spicy Tomato sauce and crumble Crispy Prosciutto on top. Garnish with basil and shaved Parmesan.
To make SPICY TOMATO SAUCE: In a large saucepan over medium heat, heat oil. Add onions and garlic and sauté until tender. Add tomato sauce to pan with red pepper chili flakes, oregano, salt and pepper. Let simmer on low heat for 30 minutes.
Add basil and let sauce cool. Once cooled, blend in a food processor on high. Return to saucepan and reheat before using. Can store refrigerated up to 1 week. Makes about 2 cups (500 ml)
To make CRISPY PROSCIUTTO: Preheat oven to 350 F (180 C).
Using a non-stick baking sheet or a parchment-lined baking sheet, lay sliced prosciutto flat. Bake for 8 to 10 minutes until crispy and golden. Set aside until ready to use or can store refrigerated, up to 4 days.
Drink Pairings