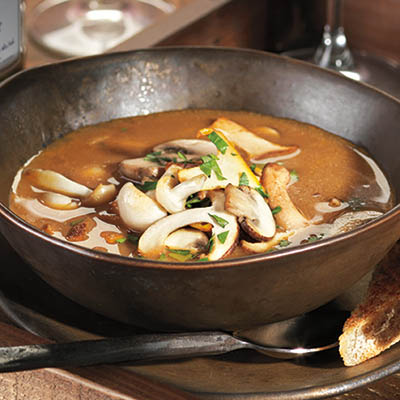 GOLDEN WILD MUSHROOM SOUP
Ingredients
Serves 4
14 g (0.5 oz) package dried porcini mushrooms
6 cups (1.5 L) cleaned, sliced assorted wild mushrooms
½ red onion, peeled and finely diced
2 large garlic cloves, minced
¼ cup (60 ml) fresh thyme
¼ tsp (1 ml) sea salt, plus extra to taste
1 tbsp (15 ml) tomato paste
2 tbsp (30 ml) crème fraîche
1 tbsp (15 ml) minced flat-leaf parsley
2 tsp (10 ml) fresh lemon juice
freshly ground black pepper to taste
Instructions
Add porcini mushrooms to a small bowl,
Heat oil in medium-sized heavybottomed saucepan. Add freshly sliced mushrooms and stir over high heat. Add onion, garlic, thyme and salt. Chop porcini and add, reserving liquid. Stir over high heat for a minute, then add cognac to deglaze pan. Add porcini liquid, straining out grit. Reduce heat to medium, continue cooking for 3 to 5 minutes, stirring occasionally, until moisture evaporates.
Stir in stock and tomato paste. Bring to boil. Cover, with lid ajar, simmer for 20 minutes. Stir in parsley and lemon juice. Add salt and pepper to taste.
Ladel into bowls and dollop with crème fraîche. Dot with truffle oil, if desired. For a creamier soup, strain out ½ cup (125 ml) mushrooms, set aside. Purée soup in blender. Serve with reserved mushrooms as garnish.
Drink Pairings