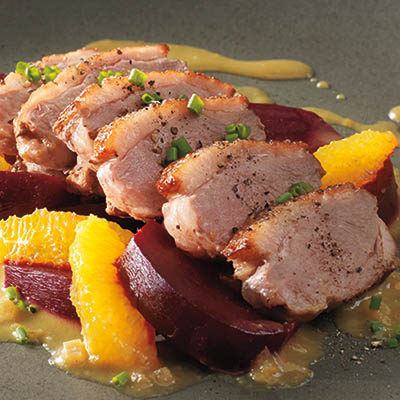 GOOSE WITH ORANGE WHISKY SAUCE
Ingredients
Serves 4
2 cups (500 ml) kosher salt
½ cup (125 ml) prepared horseradish
1 tbsp (15 ml) chopped fresh thyme
1 tbsp (15 ml) chopped fresh rosemary
2 large unpeeled red beets, trimmed and scrubbed
2 lbs (1 kg) goose breast, about 2 breasts
salt and freshly ground black pepper, to taste
1 tsp (5 ml) olive oil or grape seed oil
½ cup (125 ml) Scotch whisky
1 cup (250 ml) chicken or duck stock
½ cup (125 ml) orange juice
⅓ cup (75 ml) cold unsalted butter, cut into cubes
2 oranges, peeled and cut into segments
Instructions
To make SALT-ROASTED BEETS: Preheat oven to 375 F (190 C).
In a bowl, stir together salt, horseradish, thyme and rosemary. Place 3 mounds salt mixture, 1 tbsp (15 ml) each, onto a rimmed baking sheet. Top each mound with 1 beet before covering beets with remaining salt mixture. Press salt firmly around each beet to create a crust that completely encloses beets.
Bake beets for 1¾ hours. Then cool for 5 minutes before cracking open salt crust and removing beets. Peel beets; cut into ½-in (1.25 cm) wedges and set aside.
Increase oven temperature to 425 F (220 C).
Lightly score skin from goose breasts in a crosshatch pattern, making sure not to score into meat. Season breasts with salt and pepper before setting aside at room temperature for 20 to 30 minutes.
In a cold, large, ovenproof frying pan, place oil and goose, skin-side down, over medium-high heat. When they start to sizzle like bacon, turn heat down to low and cook breasts until skin has nicely browned, about 10 minutes. Turn breasts skin-side up.
Transfer pan to oven and bake breasts for 5 minutes. Check for doneness by inserting a thermometer into thickest part of breast. It should register 125 F (52 C). Return breasts to oven at 3 minute intervals if not yet at temperature. When done, transfer breasts, skin-side up to a cutting board and allow to rest for 10 to 15 minutes.
While goose breasts are resting, make sauce. Pour off all except 2 tbsp (30 ml) fat from pan that breasts were baked in. Add shallot and sauté until softened, about 2 minutes. Add whisky, and using a wooden spoon, scrape up any brown bits from bottom of pan. Take care as whisky might flambé. Let whisky reduce by half before adding stock, orange zest and juice. Bring to a boil and cook for 1 to 2 minutes before removing frying pan from heat. Whisk butter, 1 cube at a time into sauce completely melting butter cube before adding next cube. Season to taste with additional salt and pepper. Strain sauce through a fine meshed sieve for a silky smooth texture.
Slice goose breasts on a slight diagonal. Divide roasted beets and orange segments in middle of warmed serving plates. Top each with slices of goose and garnish with a spoonful of sauce over meat and around plate.
Drink Pairings