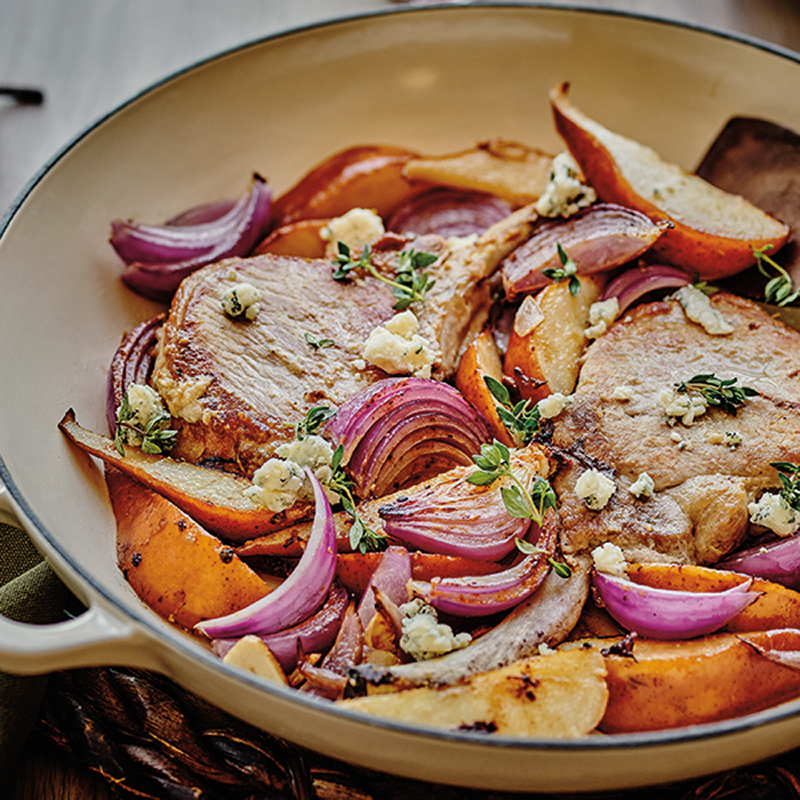 Gorgonzola-Stuffed Pork Chops
This is a perfect mid-week meal, easy to make and easy to clean up.
Ingredients
Serves 2
2 x ½ lb (500 g) bone-in pork chops
salt and pepper, to taste
6 tbsp + 2 tbsp (90 ml + 30 ml) Gorgonzola, divided
2 tbsp (30 ml) unsalted butter
2 Bosc pears, cored and cut into eighths
1 tbsp (15 ml) red wine vinegar
½ cup (125 ml) white wine
Instructions
Preheat oven to 375 F (190 C).
In a large ovenproof frying pan with a lid, heat oil over medium-high. Season pork chops with salt and pepper and sear until golden brown, about 4 minutes per side. Remove from frying pan and allow to cool until temperature is manageable for handling. Using a paring knife, cut a deep pocket (without going all the way through) in thickest side of each pork chop. Divide 6 tbsp (90 ml) of Gorgonzola in half and fill each pocket.
In same frying pan from step 2, over medium-high heat, melt butter. Add garlic, red onions and pears. Sauté until soft, about 5 to 8 minutes.
In a small mixing bowl, mix vinegar, Dijon and white wine. Pour mixture into frying pan and cook for 1 minute. Add pork chops back into pan with thyme and cover with lid. Place frying pan in oven and cook until pork chops reach a temperature of 155 F to 160 F (68 C to 71 C), about 8 to 10 minutes.
Serve with remaining Gorgonzola crumbled over top.
Drink Pairings