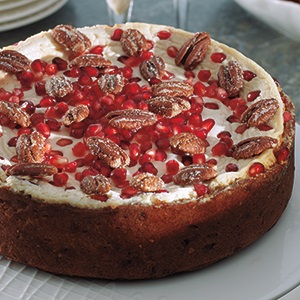 GREEK YOGURT CHEESECAKE WITH CANDIED GINGER CRUST AND POMEGRANATE SAUCE
Ingredients
Serves 12
CHEESECAKE WITH CANDIED GINGER CRUST
½ cup (125 ml) butter, softened
¼ cup (60 ml) packed brown sugar
1½ cups (375 ml) all-purpose flour, divided
1 tsp (5 ml) ground cinnamon
½ tsp (2 ml) ground ginger
¼ cup (60 ml) finely chopped crystalized candied ginger
4 x 8 oz (250 g) packages Greek yogurt-style cream cheese, at room temperature
1¼ cups (300 ml) granulated sugar, divided
4 tsp (20 ml) vanilla extract, divided
2 cups (500 ml) sour cream, divided
1 tsp (5 ml) finely grated lemon zest
1½ cups (375 ml) pomegranate seeds, divided
2 cups (500 ml) pomegranate juice
¼ cup (60 ml) brown sugar
1 tbsp (15 ml) cornstarch
1½ tbsp (22 ml) unsalted butter
1 cup (250 ml) pecan halves
1 tbsp (15 ml) granulated sugar
½ tsp (2 ml) ground ginger
Instructions
Preheat oven to 350 F (180 C).
To make Candied Ginger Crust, place butter in a mixing bowl. Beat at mediumhigh speed for 30 seconds. Add brown sugar. Beat until combined. Add 1 egg. Beat well. Beat in 1¼ cups (300 ml) flour, cinnamon, ground ginger and candied ginger until combined. Divide dough in half. Cover and refrigerate 1 portion.
Spread remaining dough on bottom of ungreased 10-in (25 cm) springform pan with sides removed. Spread dough to edges. Place on baking sheet and bake for 10 minutes. Cool completely. When cool, re-attach sides of pan. Press chilled dough onto sides to a height of 1¾- to 2-in high (4.5 to 5 cm), using a thin metal spatula to spread dough.
Reduce oven temperature to 325 F (170 C).
For filling, in a mixing bowl, beat cream cheese and 1 cup (250 ml) of the granulated sugar with an electric mixer until fluffy. Beat in remaining ¼ cup (60 ml) flour on low speed until smooth. Add remaining 3 eggs and 3 tsp (15 ml) vanilla all at once, beating on low speed just until combined. Stir in ½ cup (125 ml) sour cream, lemon zest and ¾ cup (175 ml) of the pomegranate seeds.
Pour filling into crust-lined pan. Place on baking sheet. Bake for 65 minutes or until edges are puffed and centre jiggles slightly when gently shaken. Remove from oven.
Stir together remaining 1½ cups (325 ml) sour cream, ¼ cup (60 ml) sugar, and 1 tsp (5 ml) vanilla. Spread sour cream mixture over top of baked cheesecake. Return to oven; bake for 10 more minutes. Remove from oven. Cool on wire rack for 15 minutes. Loosen crust from sides of pan. Cool for 30 more minutes. Remove sides of pan; cool completely. Cover, then chill 4 hours or overnight.
To make Pomegranate Sauce, add juice to a medium saucepan and bring to a boil. Reduce heat and boil gently, uncovered until reduced to about 1 cup (250 ml), about 10 to 12 minutes. Whisk in brown sugar and cornstarch. Cook and stir until thickened and bubbly. Cook and stir for a couple minutes longer. Cover and refrigerate up to 5 days. Warm sauce slightly before serving.
To make Gingered Pecans, melt butter in a medium non-stick frying pan over medium heat. Add pecans and cook, stirring, until they start to brown, about 2 to 3 minutes.
In a small bowl, combine sugar, ginger and salt. Sprinkle mixture over pecans and cook, stirring until pecans are coated with mixture and are browned and crisp, about 1 minute. Spread out on a baking sheet to cool.
To serve, remove Cheesecake and Pomegranate Sauce from refrigerator 15 minutes before serving. Spoon some sauce over top of cheesecake and garnish with remaining ¾ cup (175 ml) pomegranate seeds and Gingered Pecans. Slice and serve with remaining sauce.
Drink Pairings